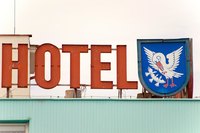 Travelers to Houston often look for a hotel that provides restful amenities when they visit the city. Tourists who go out to enjoy the sites and activities of Houston may want to look forward to a quiet relaxing evening after their day of touring. A number of Houston hotels offer Jacuzzi suites so guests can relax after a day of exploring the city.
Hotel Icon
The Hotel Icon provides comfortable accommodations for tourists, businesspeople, individuals attending conferences and guests who come to attend an event held at the hotel. Visitors who wish to stay in Houston's downtown district may appreciate the Hotel Icon's convenient location near the city's business and government offices, performing arts centers, restaurants and shopping venues. The suites include garden or Jacuzzi tubs as well as work and sitting areas, TV, Wi-Fi service, a fully stocked refreshment center and other amenities to ease visitors' stays. An on-site dining room, spa and fitness center complete the hotel experience. Jacuzzi suites start from $175 and upward, depending on the amount of time the guest wants to stay, the number of people and the time of year.
Hotel Icon 220 Main Houston, TX 77002 713-223-3223 hotelicon.com
Westin Oaks Houston
The Westin Oaks hotel in Houston connects to the Galleria Shopping Center to offer guests a variety of recreational activities and shopping during their Houston visit. The hotel contains a luxurious spa, and guests can easily access the Galleria's cafe, bar or grill for delicious meals. The Westin Oaks' suites provide guests with a comfortable stay with features such as firm mattresses, a sitting area and TV, and Jacuzzis to allow for a restful interlude during a Houston visit. Other room amenities include Wi-Fi access, 24-hour room service, a coffee maker in each room (with coffee) and a balcony. The Westin Oaks provides handicapped-accessible rooms and services for disabled guests. Guests may request a pet-friendly room or a nonsmoking room.
Westin Oaks Houston The Westin Oaks Houston 5011 Westheimer at Post Oak Houston, TX 77056 713-960-8100 starwoodhotels.com/
Comfort Suites Sugar Land
Guests of the Comfort Suites Sugar Land hotel in Stafford, Texas, receive a treat when they book. Guest rooms come with many amenities that other hotels do not offer, including multiple phones, voice mail and speakerphone, wet bar, kitchenette stocked with a fridge, microwave and coffeemaker and much more. All of the Comfort Suites Sugar Land suites have a hot tub, but the honeymoon suite with a Jacuzzi is set aside for couples who marry at the hotel. Couples who reserve 10 rooms receive the complimentary wedding suite for free to celebrate their wedding night in luxury. Houston residents can easily access Sugar Land's Comfort Inn Suites, approximately 20 miles outside of Houston, to celebrate together.
Comfort Suites Sugar Land 4820 Techniplex Dr. Stafford, TX 77477 281-565-5566 comfortsuitessugarland.com/