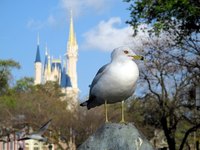 Visitors to Orlando, Florida, are greeted by sunshine, palm trees and a myriad of attractions. Orlando is a vibrant mecca of theme parks and tourist attractions, most of which are accessible to accommodate visitors with disabilities. Wide walkways, ramps, wheelchair lifts, sign language interpreters and audio devices help to include everyone in the activities.
The Holy Land Experience
The Holy Land Experience is a bible-centered Orlando Theme Park, which can accommodate handicapped visitors with wheelchairs. Exhibits feature wide walkways and ramped entrances. Additionally, the guest services office can make arrangements for disabled guests; guest services has a small supply of wheelchairs available for complimentary usage; however, it is recommended that guests bring personal wheelchairs when possible. The Holy Land Experience includes attractions such as "The Scriptorium" museum that displays thousands of manuscripts as part of the Van Kampen Collection; "Jerusalem Street Market" replica of a Middle Eastern market and the "Living Word Prayer Garden."
The Holy Land Experience 4655 Vineland Road Orlando, FL 32811 800-447-7235 holylandexperience.com
Walt Disney World Resort
The Walt Disney World Resort is handicap accessible. Most of the transportation systems throughout the resort are accessible; all buses are able to accommodate wheelchairs, which can fit on the vehicle's lift and the Monorail features entrance ramps and elevators to accommodate visitors with wheelchairs as well. Visitors to the Walt Disney World Resort may rent electric convenience vehicles or wheelchairs at various locations in the four Disney Theme Parks, which includes Epcot, the Magic Kingdom, Disney's Animal Kingdom and Disney's Hollywood Studios. Rentals are also available in the two water parks. Many of the resort's attractions allow guests to remain in the electric convenience vehicles or wheelchair, provide hand-held captioning devices for the hearing impaired and audio descriptions for the visually impaired. Guest services at each park can assist visitors in making arrangements for disabled guests.
Walt Disney World Resort Orlando, FL 32811 407-824-4321 disneyworld.disney.go.com
Universal Orlando
Universal Orlando provides services and accommodations for disabled visitors. Many live performances features interpreters, assisted listening devices and closed captioning for guests with hearing difficulties. Many of the outdoor stage areas, shopping facilities, dining areas and queues are accessible to guests in wheelchairs. All shops, queues and restaurants allow service animals. Certain attractions, such as Hollywood Rip Ride Rockit or Dragon Challenge, may require that guests remove prosthetic limbs; other attractions may prohibit oxygen tanks.
Universal Orlando 1000 Universal Studios Plaza Orlando, FL 32819 407-363-8000 universalorlando.com
Charles Hosmer Morse Museum of American Art
The Charles Hosmer Morse Museum of American Art is a 13-minute drive, seven miles northwest of Orlando, in Winter Park. The museum is handicapped accessible, with all exhibits located on one floor and wheelchairs available for complimentary guest use. The museum has an extensive Tiffany exhibit along with galleries of American painting, pottery and decorative art from the late 1800s and early 1900s. The museum is open Tuesday through Sunday.
Charles Hosmer Morse Museum of American Art 445 N. Park Ave. Winter Park, FL 32789 407-645-5311 morsemuseum.org