Safety, sponsors and professionalism are the primary reasons there are so many equipment rules in the National Football League. An umpire and a team representative are responsible for inspecting and enforcing these rules before, during and after football games. Players and personnel from each team are expected to know and adhere to all uniform and equipment rules at all times.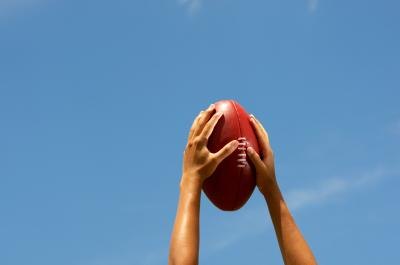 (Cameron Spencer/Photodisc/Getty Images)
NFL players and team personnel are expected to dress in a professional manner while representing the league. This includes the time before games, during games and after games. It also includes personal appearances and during travel. Players and personnel are not permitted to wear any endorsements, symbols or tributes on their uniforms or equipment without the league's permission. Reebok is the official sponsor for clothing on the field during NFL games and although this may conflict with individual sponsorships, it is the only logo brand players and team personnel are allowed to wear. Fines can go as high as $25,000 for violations and three times that amount during playoff games and the Super Bowl. Money collected through fines is donated to charity.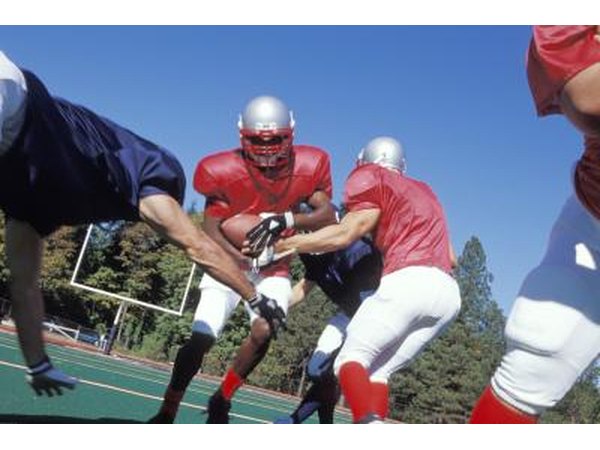 Ingram Publishing/Ingram Publishing/Getty Images
All NFL players must wear a helmet while on the field. Player are required to wear a white chin strap, and it must be buckled during play. Bandannas are not allowed but league-approved skull caps are permitted. Visors or eye shields on helmets are allowed if advised by doctors and approved by league officials. Decals, stickers, markings, or other symbols are not allowed on the helmet or chin strap without league approval.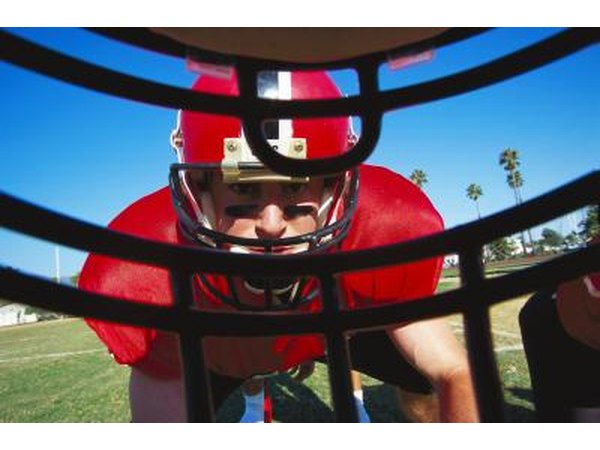 Stockbyte/Stockbyte/Getty Images
Player jerseys are required to be tucked in at all times. This means jerseys can't be cut short or augmented in any way. The jersey must cover the shoulder pads and cannot be altered to tear away easily. Sleeves can not be cut or torn. No additions logos, symbols or writing can be added to a jersey without league permission.
Darrin Klimek/Digital Vision/Getty Images
Any wrist bands worn by a player must be black or white in color. Tape worn on the arms or hands must be opaque or white in color. Gloves may be worn as long as they do not violate sponsorship rules and do not have multicolored piping. Bracelets promoting companies, logos or charities must be covered or removed during games.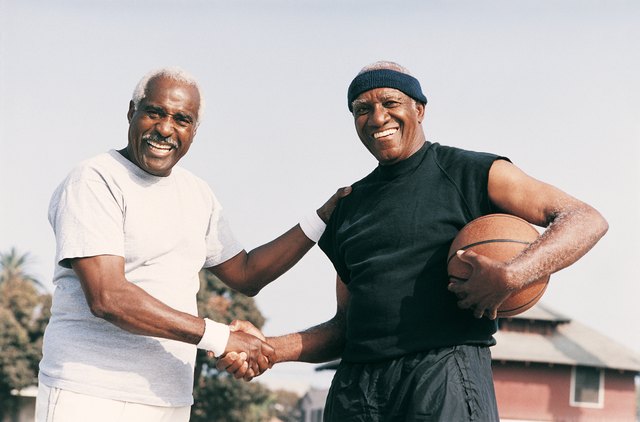 Digital Vision./Photodisc/Getty Images
Uniform pants must reach over the knee and may not be cut or altered in any way. Pants may not contain any decals, logos or symbols not approved by the league. Hip, thigh and knee pads are not required but are encouraged for every player.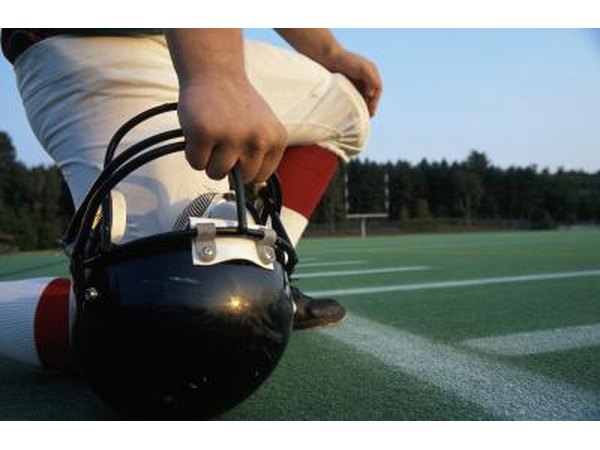 Hemera Technologies/Photos.com/Getty Images
Players are required to wear two socks on each foot; a combination of white and their team color for each leg. Wearing only one of the socks is a violation of NFL rules and will result in a fine. Socks must be pulled up over the calf and meet with the uniform pants at the knee. Players are allowed to choose their own shoe but it must be of the color chosen by the team at the start of the season. Kickers and punters are allowed to wear a special kicking shoe of a different color. Any tape on a shoe must be opaque or the same color as the shoe. Shoes may not contain logos, symbols or writing unless approved by the league. The laces on the shoes must be the same color as the shoe.
Promoted By Zergnet