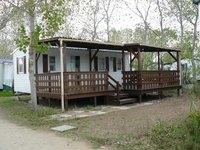 The Pennsylvania legislature enacted three laws within the Pennsylvania Code that relate directly to the sale of mobile homes. These laws govern the the retailers' responsibilities as they relate to the manner in which the mobile homes are installed, the fees that retailers may be charged, and how the mobile homes are financed.
Installation
Title 12 Pa. Code § 149.6(e) (Certificate of Compliance) mandates that mobile home retailers who do not perform their own installations issue their customers with a Certificate of Compliance along with a written notice explaining that their mobile homes will be installed in accordance with the installation requirements of the manufacturer's Design Approval Primary Inspection Agency (DAPIA) and Title 42 USCA §§ 5401-5426 (Manufactured Housing Construction and Safety Standards Act of 1974) so that the mobile home "performs as a fully integrated structure." The written notice must provide a list of installers that are certified by the Pennsylvania Department of Community and Economic Development.
Fees
Title 12 Pa. Code § 143.15 (Fees) insures that retailers are well aware that both the United States Department of Housing and Urban Development and the Housing Standards Division of the Pennsylvania Department of Community and Economic Development are authorized to charge retailers certain fees to offset the cost of their monitoring and inspections of retailers, which can run from $25 per hour to $60 per hour.
Financing
Chapter 39 (Mobile Home Financing) of Title 10 (Banks and Banking) of the Pennsylvania Code outlines the procedures to which retailers of mobile homes must adhere when they offer their customers inventory financing when they purchase mobile homes.
The retailer must have obtained a Motor Vehicle Sales Finance Company License from the Consumer Credit Bureau of the Pennsylvania Department of Banking. The retailer then is permitted to finance only 100 percent of the manufacturer's invoice price on a brand new mobile home and only 75 percent of the fair market value of a used mobile home. Both of these are on terms that are renewable, but not for a total time span of more than 1 year.