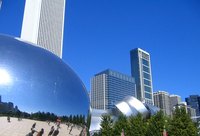 Many Chicagoans opt to relax on Sundays because many businesses aren't open as late into the evening on the final day of the weekend. But for anyone looking for another weekend day of free fun in the Windy City, there are a few options for Sunday activities that won't put a dent in your wallet.
Park District Events
Parks are always free, but during the summer, much more than that is free in Grant Park. A variety of music styles are celebrated at summer festivals. The Chicago Blues Fest, Jazz Fest, Celtic Fest and Gospel Music Fest all have their final fest days on Sundays, and they are always completely free of charge. Music is performed by some of the top musicians in the world on multiple stages, all day long. The Taste of Chicago hosts two Sundays during the festival, with popular musical acts playing at the Petrillo Music Shell.
Grant Park 337 East Randolph St. Chicago, Illinois 60605 (312) 742-7648
Street Festivals
Though donations are requested, Chicago street festivals are all technically free. All summer long, a different neighborhood street festival can be found somewhere in the city. Popular local and national acts perform concerts all day long, and vendors offer swag and contests to visitors. Some of the more popular fests are Do-Division in Wicker Park, Green Music Fest in Ukrainian Village, the Renegade Craft Fair and Wicker Park Fest. Unlike many other Chicago events, dogs are permitted at these fests, too. Street fests are either two or three days long, but Sunday is generally the final day of every fest.
Comedy
Chicago's comedy scene is still thriving, and free Sunday events offer proof. The Playground Theater hosts "The Free For All" every Sunday, featuring live improv from the group Panty Filers, Koleno, and Hair Club for Men. The show starts at 9:30 PM. A slightly less orthodox comedy experience takes place in Logan Square's club, The Burlington. The Sunday Night Sex Show takes place the last Sunday of every month, from 7:30 to 10:00 PM, and features sex-themed readings by local writers, trivia games, and a Q&A session with The Burlington's resident "sexpert."
The Playground Theater 3209 North Halsted Street Chicago, IL 60657 773-871-3793 the-playground.com
The Burlington 3425 W Fullerton Avenue Chicago, IL 60647 773-384-3243