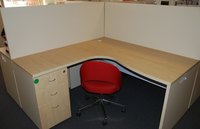 Office layout requirements take several areas into consideration in order to provide optimal working conditions for the office staff. These areas include spatial needs, electrical and networking needs, lighting needs, and the comfort and safety of the staff. Accommodating the needs of each of these areas, while also leaving room for potential growth, is a challenging prospect, but these needs should always be considered first, before aesthetic considerations.
Space Requirements
When determining space requirements, office planners need to take into account not only the workspace required for each executive and employee, but also the space necessary to house office equipment and supplies, physical files, common areas and meeting spaces. They also need to provide enough restrooms to comfortably accommodate the office staff. Other considerations include the ratio of private executive and management offices to general staff work areas and the flow of traffic between staff areas and management areas. They also need to leave room for growth and expansion.
Electrical, Telephonic and Networking Requirements
Office layout is often dictated by practicalities such as the location of electrical outlets and phone jacks. When planning an office space, these things should be considered and planned out in addition to computer networking requirements. Conference rooms should include not only teleconferencing phone lines but also wireless networking and projection capabilities and plenty of outlets for plugging in laptop computers.
Lighting Requirements
When planning office lighting, office planners should keep three types of lighting in mind to save the eyes of the staff and help elevate mood. Ambient, or general, lighting is provided by overhead fixtures and wall sconces. Sufficient task lighting should be provided at every work station. If possible, daylight should be allowed to penetrate the office to provide additional fill light as well as a boost to office morale.
Ergonomic, Safety and ADA Requirements
Office layouts should comply with standards created by the Americans with Disabilities Act by providing reasonable accommodation to disabled employees. This means that hallways and pathways between cubicles, as well as entryways and offices, must be large enough to comfortably maneuver a wheel chair. They also need to comply with the Occupational Safety and Health Administration's safety standards, particularly in providing means to quickly and safely evacuate the building in an emergency. The ergonomic needs of the staff should also be accommodated, providing room for ergonomic seating, sufficient space between chairs and computer monitors to avoid eye strain, and comfortable desk height to avoid back and neck strain.