Saturated fat and trans fats can increase your risk of heart disease, so these are considered "bad" fats. Replacing these fats with the healthier unsaturated fats, including monounsaturated fats and the two types of polyunsaturated fats -- omega-3 and omega-6 -- will help decrease this risk as long as you keep your total fat consumption within the recommended limits.
Monounsaturated Fat Sources
Most of the fats in your diet should come from monounsaturated fats. They should make up between 12 percent and 20 percent of your calories. Monounsaturated fats help decrease your low-density lipoprotein, or "bad" cholesterol, without decreasing your high-density lipoprotein, or "good" cholesterol. Olives, avocados, nuts, nut butters, sesame oil, peanut oil, sunflower oil, olive oil and canola oil all provide monounsaturated fats.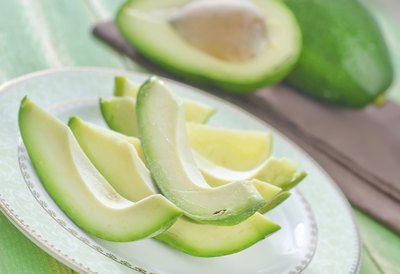 Omega-3-Rich Foods
Omega-3 fats help decrease heart disease risk and also play a role in brain function. Fish are the best sources because they provide the types your body uses best. These are called eicosapentaenoic acid, or EPA, and docosahexaenoic acid, or DHA. Salmon, tuna, mackerel, herring, sardines and farmed rainbow trout are some of the best sources of EPA and DHA, but most types of fish provide at least some omega-3 fats.
Walnuts, flaxseed and canola oil provide the other type of omega-3 fat, alpha-linolenic acid, or ALA. Olive oil, corn oil, soybeans and tofu also provide very small amounts of ALA. Your body can convert ALA to EPA and DHA, but the conversion isn't very efficient.
You should consume between 1.3 and 2.7 grams of ALA for every 2,000 calories in your diet and 500 milligrams of combined EPA and DHA each day.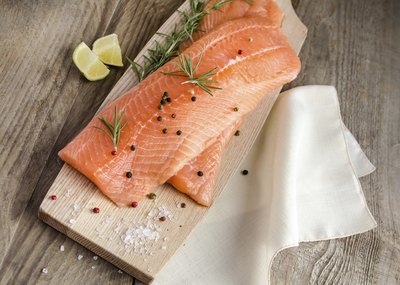 Foods High in Omega-6 Fats
Between 5 percent and 10 percent of your calories should come from omega-6 polyunsaturated fats. Corn, soybean, safflower, sunflower, grapeseed and canola oils all contain high amounts of omega-6 fats, as do shortening, margarine, mayonnaise, salad dressings, nuts, seeds and many processed foods. Dairy products and meats also provide some omega-6 fat. Most people get enough omega-6s, so you don't generally need to worry about meeting your recommended intake.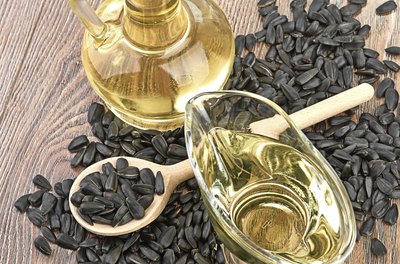 Ratio of Omega-6 to Omega-3
Americans tend to consume more omega-6 fat and less omega-3 fat than recommended, with a typical American diet having 14 to 25 times more omega-6 than omega-3 fats, according to the University of Maryland Medical Center. Aim for a ratio of omega-6 to omega-3 that's between 2-to-1 and 4-to-1. A study published in Experimental Biology and Medicine in June 2008 found that having a lower ratio of omega-6 to omega-3 fats may help lower your risk of heart disease, cancer, asthma and autoimmune and inflammatory diseases.