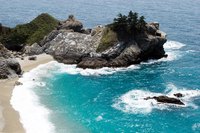 Southern California is known for its sunny, warm weather. While March is often mild, it's still warm and sunny, making it ideal for camping, hiking and hitting the beaches for tide pooling while they aren't as crowded as in the peak summer months. In March, average temperatures are in the mid-60s with lows in the 50s, according to the National Oceanic Atmospheric.
Island Camping & Hiking
March offers perfect weather for camping and hiking the Channel Islands National Park. The Channel Islands are just off the coast of Ventura and Santa Barbara, California, and preserve a virtually untouched piece of Southern California. Take the official national park concessionaire ferry boat operated by Island Packers. Camping in March is best at Santa Cruz Island, and Island Packers can take you and your gear there. Make sure to reserve a campsite with the national park for Scorpion Ranch, a short hike from the landing pier on the island. March is the tail end of the migrating gray whale season, and you might see the whales from Cavern point on Santa Cruz Island, according to Island Packers. Take a strenuous hike up and down hilly paths to Smugglers Cove on the other side of the island.
Island Packers at Ventura Harbor 1691 Spinnaker Drive, Suite 105B Ventura, CA 93001 805-642-1393 islandpackers.com
Spring Blooms
Spring is known for flowers, and you can walk or take a tractor-pulled wagon ride around the vast Flower Fields in Carlsbad, California. Just north of San Diego, the fields feature ranunculus flowers in a range of colors from pinks to oranges. This spot makes for colorful pictures and family photos, and you can see the ocean from the fields, perched on the hillsides. The Flower Fields are only open from March to May, so March is the perfect time to catch the beginning of spring blooms.
The Flower Fields 5704 Paseo Del Norte Carlsbad, CA 92008 760-431-0352
theflowerfields.com
Tide Pooling
Although the water is too cold in Southern California to swim in March without a wetsuit, you can enjoy the rugged Orange County coast and find sea life in the tide pools. Crystal Cove in Orange County, California, is a state beach where you can hike along the paths on top of the coastal cliffs or stroll along the 3.2 miles of beach. The offshore waters are designated as an underwater park, so sea life is abundant. Find crabs, sea urchins, bright purple star fish and coral in the tide pools.
Crystal Cove State Park 8471 North Coast Highway Laguna Beach CA 92651 949-494-3539 parks.ca.gov