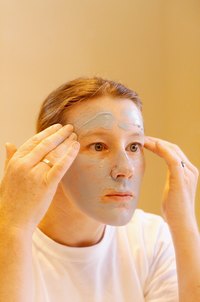 Skin care and facial beauty regimens do not have to center around expensive products. Using natural products, you can give your face a treat without spending a lot of money. Natural beauty does not have to be aided with unnatural, chemical-filled skin creams and scrubs. As with any product, though, allergies can occur (even with natural ingredients) so be sure to perform an allergy test on a patch of skin that won't be seen before applying to the face.
Essential Oils
Essential oils can be blended to create face masks or used to treat blemishes and pimples. Tea tree oil, lemongrass, cedar wood or lavender can all be used to treat zits and acne. Oils should be used with a "carrier" oil, such as grape seed or olive oil, or added to your daily moisturizer to minimize the chances of irritation or drying of the skin. It is not a good idea to use a lot of essential oils directly on the skin, so always check the label or check with the vendor for instructions on how to use them, and check with a doctor first if you are pregnant.
Face Masks
Many food items can be mashed together to create a face mask. Avocados are full of vitamin E, which is essential to keeping the skin nourished and moisturized. Mash a whole avocado with honey and egg and, if possible, clay (which can be bought at many health food stores) and leave on the skin for 15 minutes. Cucumber and yogurt can be mixed together to create a cooling face mask. Bananas can be mashed until creamy and applied to the face to treat wrinkles.
Scrubs
Course sugars can be used to create a facial scrub to exfoliate skin. Mix 2 tbsp. of oats, 1 tbsp. of sugar and 2 tbsp. of aloe vera (available in health food stores) to create a cleansing, healing scrub. Alternatively, use thick salt, such as rock or sea salt. However, sugar is better suited for delicate or sensitive skin, so only use salt if you find the sugar ineffective. Do not scrub too vigorously or irritation may occur.