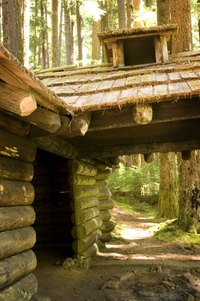 Brown County, Indiana, is home of the Brown County State Park. Within its 16,000 acres, there are ample opportunities for hiking, fishing, horseback riding, canoeing, swimming, picnics and observing wildlife. Spend the day outdoors and come back and relax in a cabin with a hot tub. The area has hundreds of cabins for rent, most of them privately owned. They range from simple accommodations to the ultimate in rural luxury.
Sweetheart Cabin
Located directly across the street from the Abbey Inn, this non-smoking cabin has privacy for honeymooners but enough room for a family vacation. Up to four people can sleep in the two-bedroom cabin, and the same number can share the indoor hot tub or the sauna. Children and pets are welcome to stay in the cabin. It also features a fully-equipped kitchen, and towels are supplied. Sweetheart Cabin has no telephone. Spend the day in nearby Brown County State Park, or visit the Little Nashville Opry next door. Couples can even get married at the Brown County Wedding Gazebo, and cross the street to honeymoon at the Sweetheart Cabin.
Sweetheart Cabin sweetheartcabin.com
Rustic Elegance Lodge
This upscale log house, available through Brown County Getaways, sits on a secluded 4-acre lot. The five bedroom and five bathroom cabin overlooks the Schooner Valley. Featuring a floor-to-ceiling stone fireplace, the nonsmoking Rustic Elegance Lodge also boasts a four-person hot tub in its glass all-season room. Other amenities include satellite TV with big screen, king-size beds, wireless Internet access and pool table. A fully equipped kitchen, telephone and all linens are included. No pets are allowed. The parking lot has enough space for a recreational vehicle or boat.
Rustic Elegance Lodge Brown County Getaways 812- 829-1186 rusticelegancelodge.com
Overlook Cabin
Built in 1910, the Overlook Cabin is two miles from Nashville, Indiana. The three-story cabin has cathedral ceilings, three bedrooms and two bathrooms. Relax by the gas fireplace in the living room, or play pool on the first floor table. Outside, there's a rear deck to watch the sun set and a hot tub on the lower deck. The nonsmoking cabin has a no pets policy. Linens are provided, and the kitchen is fully equipped. Up to six people may stay at the Overlook Cabin.
Overlook Cabin Brown County Cabins 304 Whippoorwill Lane Nashville, Indiana 47448 812- 988-0984 browncountycabins.com