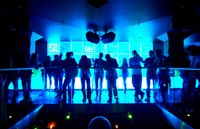 Located in eastern Tennessee, Knoxville is home to many clubs, bars and restaurants showcasing live music on a nightly basis. Home to a thriving music scene, Knoxville offers visitors and residents alike a good variety of night time entertainment including a number of dance clubs ranging from a country music dance club to an all gay dance club.
Bar Knoxville
Located on the University of Tennessee strip, Bar Knoxville is an 18-years-old-and-up bar and night club. With more than 6,000 square feet of overall space and the largest dance floor on the UT strip, the bar offers a full liquor bar with top shelf liquors and drink specials nightly. Women get in for free and men over 21 years old can get in for free before 11 p.m. any evening.
Bar Knoxville 1820 Cumberland Ave. Knoxville, TN 37916 865-566-0380 barknoxville.com
The Pilot Light
Located in the Old City, Pilot Light is open nightly and features shows on a regular basis. Show tickets start at $5 and bands such as Place of Skulls, Toro y Moi, Warpaint and Stolen Sheep have graced the stage along with 2,000 others in the club's 10-year history. Shows start at 10 p.m. and evenings with no band shows feature various DJs with no admission charge. Parking may be a challenge as the club does not have designated spaces.
The Pilot Light 106 E Jackson Avenue Knoxville, TN 37915 865-524-8188 thepilotlight.com
Cotton Eyed Joe
Located on the west side of Knoxville, Cotton Eyed Joe is a country dance club, considered one of the best clubs in the country and voted as one of the top five country clubs by the Country Music Association in 2010. Country music stars such as Travis Tritt, Clint Black, and Steel Magnolia have held shows at the club, and on nights with no shows, the club features a variety of attractions for all ages. Monday nights from June 7 through August 9 are family nights with no alcohol served, free pony rides and low cost Coke products. Visitors on Tuesday nights can enjoy a free food buffet starting at 6 p.m. and free poker tournaments at 7 p.m. and 10 p.m. Free line dancing lessons are offered Sundays through Tuesdays and on Thursdays from 7:00 p.m. to 9 p.m. Thursday nights offer a free buffet starting at 6 p.m. and free pitchers of beer for anyone aged 21 and above and karaoke. Prizes and cash are given away almost nightly and a variety of contests are held regularly, including best bikini, best-dressed, and best costumes.
Cotton Eyed Joe 11200 Outlet Drive Knoxville, TN 37923 865-675-3563