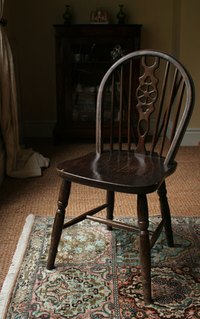 Gestalt therapy focuses on experiencing thought and beliefs rather than simply discussing these feelings. The process of learning through experimentation provides purpose to Gestalt therapy rather than simply stating feelings, according to gestalt.org. A Gestalt therapist wants the client to experience full awareness of his present situation. Techniques of Gestalt therapy focus primarily on the present day rather than the past. It places the client in the current state of mind.
Chair Technique
This technique requires that the client sit in one chair across from an empty chair. The client should imagine someone in the chair who has brought conflict to his life. The counselor encourages the client to talk to the person about how he felt when this person wronged him. Then the client switches chairs and responds as if he is the person who created the conflict. This helps encourage an emotional interaction between the client and the other person. This technique clarifies personal feelings and helps the client understand the other person's motives.
Exaggeration
The counselor asks the client to exaggerate certain movements to help the client understand his true feelings. For instance, if a client is talking about his spouse, it is suggested that he move like she does. This helps intensify the client's feelings and awareness regarding the person he is moving like.
Guided Fantasy
The visualization of an experience can bring awareness to the cause of the client's conflict, according to gestalt.org. The counselor asks the client to close his eyes and imagine himself in the triggering event. The counselor encourages the client to share what he feels in that moment. This helps the client become aware of the causes of his feelings by recreating the triggering event.
Counselor Disclosure
The therapist shares what she is experiencing during the session. The counselor uses "I" statements to present what she feels, smells, or sees. The therapist must bring to awareness the things that the client does not see. For instance, the therapist may say that she notices that the client continuously taps his foot. This brings awareness to how the client is acting in the present.
Body
Body techniques help the client see how he can control body movements. The counselor may notice that the client tenses up by making fists. The counselor may ask the client to breathe deeply and with each breathe slowly loosen his hands. This helps the client become aware of his body functions and his ability to control these functions.