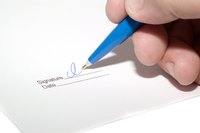 A statement of work (SOW) is a document stating the scope of a job and the time it should take to complete it. SOWs are extremely difficult to write because they must include just the right information. They must be very precise and contain all the information a worker or contractor needs to know. They must be detailed enough so there is not much room for interpretation.
Purpose
A statement of work is written to avoid misunderstandings within a job. It contains detailed information regarding a job, including expectations, deliverables and what is acceptable from the hiring company. The purpose is also to clarify how the job is done, the pricing schedule and all elements of the job. An SOW is written in clear, plain language making it easy to read and understand.
Success and Specifics
The first major element of a good SOW is outlining the meaning of success pertaining to the job. The company writing the SOW is the hiring company and in order for the work to be acceptable and successful, the firm hired must understand what this means to the hiring company. The SOW shows in detail the elements that constitute the success of the project. The SOW also outlines all specific information relating to the job at hand.
Time Table
Another element for a good SOW is a complete time table. The time table explains in great detail the time expected for each phase of the project. This time table is very detailed and explains in actual numbers--the days, hours or weeks--how much time the company is giving the contractor for each segment of the job. SOWs should be extremely precise and contain beginning job dates and expected end dates. In order for the project to be successful, this time table must be adhered to strictly.
Milestones
Milestones are a key element to an SOW. This statement should explain all types of milestones that occur within the job. This includes when the company makes payments to the contractor. Oftentimes this is scheduled and based on date or percentage of job completion. Deliverables are listed under milestones as well. Specifics about them are written, including what the deliverables are, where they're coming from and when.