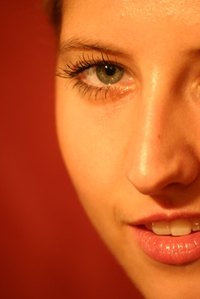 If you're plagued by fine lines and wrinkles near your nose, there's no need to spend thousands on dermal fillers, spa visits and facials. Often, you can rid your face of wrinkles using foods and supplements you already have in your kitchen. Try these home remedies for wrinkles near the nose and you'll be amazed by the difference you see in a few weeks.
Massage with Oil
Use targeted massage to increase blood circulation to the areas near your nose. Increased blood flow can stimulate cell turnover and help to tighten facial muscles. Use vitamin E, olive, jojoba or coconut oil to massage your face. Drizzle fingertips with oil and vigorously massage your wrinkles in a small circular motion using your fingertips. Give yourself a facial massage twice a day, every day, and you should see results in about two weeks.
Vitamin E Masque
A vitamin E and yogurt masque delivers a blast of moisture to plump up the skin near your nose. Create a masque by mixing the contents of three vitamin E capsules (or 1 teaspoon of vitamin E oil), 2 teaspoons plain yogurt or Greek yogurt, 1/2 teaspoon honey and 1/2 teaspoon lemon juice. Apply the vitamin E masque to the wrinkles near your nose. Let the masque dry and then rinse.
Egg Masque
You can also use a simple egg masque, which helps to tighten the skin at the surface level. Use room temperature beaten egg whites on the wrinkled skin beside your nose. Let the egg dry before rinsing it off.
Omega-3 Fatty Acids
A diet rich in omega-3 fatty acids not only helps your arteries and heart, but also helps you keep youthful skin. Eating foods rich in omega-3s can slow and even reverse wrinkles around your nose. Try a fish oil supplement or incorporate more salmon into your diet.
Drink More Water
Drinking enough water keeps every part of your body hydrated, including your skin. Make sure you stay hydrated by drinking at least 64 ounces of water or more each day, even if you don't feel thirsty. This may seem like a lot at first, but it will flush toxins from your body and your skin, and help plump the area of your face near your nose.
Natural Acids
Natural acids can help to resurface the skin and increase cell turnaround. Apply fruit juices to the wrinkles near your nose daily using a cotton ball. Your skin may be sensitive to different acidities, so experiment using pineapple, lemon and grape juice to find out which one is right for you.