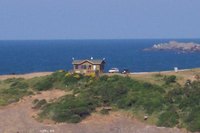 Situated in the Midwestern United States, Indiana is a haven for water sport enthusiasts, and it provides chances for boating and fishing on Lake Michigan in the north, and the Ohio River on its southern border. This state also has waterfront cabins, which provide immediate access to water activities. Most of these cabin resorts feature private boat ramps and slips for their guests to use.
French Lick Cabins at Patoka Lake Village
The cabins at Patoka Lake Village in French Lick are in the heart of Hoosier National Forest. This resort features a 158-foot fishing pier and the Osborn Boat Ramp on Patoka Lake. The cabins at this resort face the lake, and they are gathered together. The cabins feature fully furnished kitchens, living room areas, outdoor decks, bathrooms and cable televisions. A picnic area with barbecue grill is outside of each cabin. Boat storage units are available. Pets are permitted to stay in the cabins. During the winter, cabin guests can take advantage of skiing activities at Paoli Peaks, which is less than 25 minutes away.
French Lick Cabins at Patoka Lake Village 7900 W. County Route 1025 S. French Lick, IN 47432 888-324-5350 plvlogcabins.com
Shady Cove Cabins
Situated in Northern Indiana, Shady Cove offers waterfront cabin accommodations on the shores of Lake Shafer, and it provides amenities such as a private boat ramp, picnicking area with barbecue grills, fishing pier, boat trailer parking and access to Wi-Fi Internet in each cabin. The cabins feature a kitchen area, living room, outdoor deck with chairs, cable television and bathroom. Each cabin can sleep up to four people with a full-sized bed and full-sized sleeper futon. Avid golfers who stay at Shady Cove can play a round at the 18-hole golf course at the Tippecanoe Country Club.
Shady Cove Cabins 4244 E. Garfield Court Monticello, IN 47960 574-583-5881 shadycovecabins.net
Ohio River Cabins
The Ohio River Cabins resort in the southern Indiana town of Derby provides waterfront cabins on the Ohio River, and it has been featured in the Indianapolis Star newspaper. A boat ramp on the river is within walking distance of the cabins. The resort is less than five minutes from Derby, which features a convenience store that sells groceries. Each of the nine cabins are separate from each other. The amount of bedrooms per cabin ranges from one to four. The cabins feature fully furnished kitchens, living rooms with fireplaces and outdoor decks with whirlpool tubs. Each cabin has an outdoor picnic table and fire pit.
Ohio River Cabins 13445 N. State Road Derby, IN 47525 812-836-2289 ohiorivercabins.com