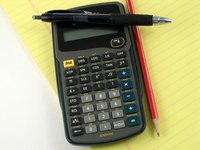 Someone who works in more than one state may end up having to file income tax returns in both states. While some states have reciprocity agreements that allow workers to avoid tax liability in multiple states, others still require that non-residents pay taxes on any income earned. Residency laws are an important aspect of determining what, if any, tax liability a worker has to a particular state.
Establishing Residency
Laws for determining residency vary from state to state. For example, if a worker lives in Maryland for at least six months out of a calendar year and either maintains a home in Maryland or lives in Maryland as of the last day of the year, she is considered a Maryland resident. In Virgina, the law is a bit simpler: She is considered a resident if she lives in Virginia for at least 183 days during the year. Other ways of establishing residency include: buying a home in a particular state; switching your driver's license or vehicle registration to that state; or registering to vote in that state's elections. A resident of a state who leaves to establish residency in another state is generally considered to be a part-year resident in both states.
Tax Returns
Someone who works out of state on a temporary basis may have to complete a non-resident tax return in that state. If he establishes a residence in both states, he may then be required to file a part-year resident tax return. While states may not allow workers to deduct taxes paid to other states from their income, they also do not normally tax refunds from other states, according to Robert M. Baldwin, CPA, in his article "Working in Different States Requires Filing Non-Resident Income Tax."
Reciprocal Agreements
Some states have reciprocal agreements removing the requirement that out-of-state workers file more than one state tax return. If an employee works in a state that has a reciprocal agreement with his state of residence, he will only have to pay taxes in his home state. Depending on state law, and employer policy, his employer may also withhold state income tax that is paid directly to his home state.