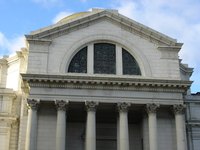 Washington D.C. offers tours of monuments, memorials, and sites of interest to visitors. Many tours are handicapped accessible, although it is always best to call in advance to make sure your needs can be accommodated. Many museums and attractions offer free wheelchairs on a first come, first served basis.
Old Town Trolley Tours
The Old Town Trolley Tour is a tour bus that goes around Washington, D.C. Passengers may get on and off the bus at monuments or other sites of interest and may take the bus as many times as they wish on the day they have tickets. The Old Town Trolley Tour has several wheelchair-accessible tour buses; reservations for one of these buses must be made 24 hours in advance. Several of the sites featured on the tour also have some accommodations for disabled visitors.
Historic Tours of America Attn: Guest Relations 201 Front St., Suite 224 Key West, FL 33040 1-888-910-8687 trolleytours.com/washington-dc
Smithsonian Institute
The Smithsonian Institute offers tours of 19 museums, including a historical museum and the National Zoo. All museums connected with the institute have at least one handicapped accessible entrance, and wheelchairs are provided for customer use at no charge. Visitors who require special accommodations can contact the institute in advance to arrange special tours.
The Smithsonian Institute PO Box 37012 SI Building, Room 153, MRC 010 Washington, D.C. 20013-7012 202-633-1000 si.edu
US Holocaust Memorial
The U.S. Holocaust Memorial Museum offers information and exhibits related to atrocities committed during the Holocaust. The museum offers free wheelchairs and walking sticks on a first come, first served basis. Visitors who have vision problems can contact the museum in advance for a guided tour designed for guests with low vision. All floors of the museum are accessible by elevator.
United States Holocaust Memorial Museum 100 Raoul Wallenberg Place, SW Washington, DC 20024-2126 202-488-0400 ushmm.org