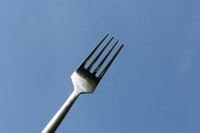 Charlotte is the largest city in North Carolina, with a population of 1,745,524 citizens (as of 2009.) Time Warner Cable Arena is the home of the NBA's Charlotte Bobcats and is frequently used as a concert and major event venue. Because it's situated in the middle of downtown Charlotte, the surrounding area provides a number of good dining opportunities.
Bellacino's
Bellacino's is conveniently located inside the Time Warner Cable Arena, giving you a chance to dine on Italian cuisine while attending an event here. The restaurant specializes in "grinders," a type of submarine sandwich. Popular grinders on the menu include the Italian grinder, Bellacino's Zesty Deli, pizza, Bellacino Club, triple-decker, crab and seafood and ham, cheese and salami. Specialty pizzas include taco, cheeseburger, veggie and chicken Alfredo. Pasta lovers can choose from spaghetti, ravioli and lasagna.
Bellacino's 333 E. Trade St. Charlotte, NC 28202 704-372-7122 bellacinos.com
Bentley's Restaurant on 27
Bentley's Restaurant on 27 is an upscale fine dining establishment not far from Time Warner Cable Arena in downtown Charlotte. It is situated on the 27th floor of Charlotte Plaza, giving diners an enviable view of the surrounding area. The chef specializes in French and American cuisine. Choice menu items include halibut, stuffed shrimp Provencal, plaza salmon, taste of Hawaii, lobster Tropicana, veal chop, filet mignon, Bentley's rib eye, steak au poivre, bourbon filet mignon, steak Dianne, lamb chops and Holland Dover sole. Sample wines from the list include Cakebread (Merlot, Napa Valley), Chasane Montrachet (Chardonnay, Oliver Leflaive, France) and Mulderbosc (Sauvignon Blanc, South Africa). Valet parking is available. Bentley's Restaurant on 27 can be rented for private and corporate events.
Bentley's Restaurant on 27 27th Floor Charlotte Plaza 201 South College Street Charlotte, NC 28244 704-343-9201
bentleyson27.com
Dixie's Tavern
Dixie's Tavern is located just a few blocks away from Time Warner Cable Arena; it is perfectly feasible to park your car there and walk to the game after. The restaurant is open for lunch and dinner every day except Sunday. The specialty here is Cajun and southern food. Menu items include jambalaya, Southern-style pulled pork, BBQ chicken and shrimp, rib combo, cocktail shrimp, Todd's famous chili, "mighty fine" gumbo and oysters. Desserts include apple cobbler and Oreo cheesecake. There is also a menu for kids. DJs spin on the weekends.
Dixie's Tavern 301 E. 7th St. Charlotte, NC 28202 704-374-1700 dixiescharlotte.com