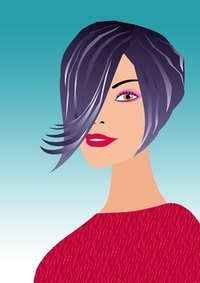 Hairstyles that fall along the jawline can work well if you know your face shape and what features you'd like to emphasize or downplay. Take into account your hair type, as well--a hairstyle on someone with coarse, thick hair might look drastically different on someone with fine, thin hair. Do research and look at various types of hairstyles. Print out photographs so your hairstylist understands what you're looking for.
Bobbed
A bobbed haircut has been a classic hairstyle since the 1920s. Fortunately the bob hairstyle flatters all ages and facial shapes. There are many variations of the bob that can be altered to the jawline, such as the inverted bob, blunt-cut bob, wedge-cut bob, choppy bob, and so on. The bob can be worn with or without bangs.
Angled
Chin-length hairstyles cut in angles framing the jawbone are another version of the bob haircut. Trendy variations can be wildly asymmetrical or mildly alternative. Angles can also accentuate curly hair, or angled hair can be curled for a more glamorous look.
Straight Line
For people with naturally straight or wavy hair, one-length hairstyles cut along the jaw work very well. They tend to be easy to care for and look healthy. Non-layered hairstyles can also look sleek and sophisticated. If you have a round face, avoid blunt bangs cut straight across, as they can add weight and emphasize roundness in the face.
Layered
Layered jaw-length hairstyles can be worn with any type of hair whether it's straight, curly, fine, thick, or curly. This look can range from subtle or severe, at the crown or base of the cut. If you have a triangular face with a strong jawline, be careful not to add height to the crown layer, as this can over-exaggerate a prominent jaw.
Textured
Textured hairstyles are advanced hairstyles that work on any current layered or bobbed chin-length hairstyle. They can also add dimension, volume, and artistic flair to straight or wavy hair. The hairstylist may chop up the layers and add geometric angles that fall along the jawline.