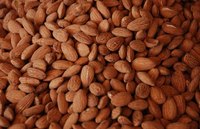 Though they may be waning in popularity, low-carb diets are still a popular choice among the health conscious as well as those with gluten allergies and diabetics. Although carbohydrates can largely be avoided, many every day products still use flour. Luckily, there are a multitude of substitutions that can be made so the low-carb dieter can enjoy baked goods and treats while still adhering to their diet.
Soy Flour
One of the most versatile food products in the world proves its continued usefulness as a flour replacement. Soy beans can be ground into a fine powder and easily used in place of some flour in most recipes. Because soy beans are gluten free, soy flour cannot fully replace flour in baking recipes since it will not react with yeast. However, replacing up to fifteen percent of the flour content with soy flour will help keep gluten and carb levels low. If you're baking foods that do not require yeast, you can replace a full fourth of the flour with soy flour.
Almond Flour
Almond flour is another popular gluten-free, low-carb alternative to wheat flour. Just as you would expect, almond flour is made from finely ground, blanched almond nuts. Although you can find almond flour made with unblanched nuts, this does not produce as good of results. Almond flour requires that it be stored in refrigerated conditions because the high fat content can quickly spoil. However, cold almond flour tends to clump badly, so it is recommended that you allow it to warm to room temperature before using. There are a number of recipes for all manner of baked goods that allow you to replace wheat flour completely with almond flour.
Protein Powder
Made from either whey proteins, rice or soy proteins, protein powders are another low-carb alternative to flour. Much like soy flour, you cannot completely replace wheat flour with protein powders made from soy. However, rice and whey protein powders do make this possible, but their carb counts are slightly higher than soy. Using protein powders makes for more delicate, flimsy baked goods and, depending on which style, brand and amount of powder used, can have various results. As such, it is important that you follow established guides and recipes rather than try to just guess or approximate as this could leave you with cookies that do nothing but crumble.