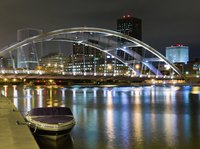 Rochester, perhaps best known as the hometown of the Eastman Kodak company, hugs the shore of Lake Ontario in western New York. The city, surrounded by historic sites, verdant parks and old villages, began as a mill town and a shipping point on the Erie Canal. Winter can be brutal in the region, but natives gas up their snowmobiles or take to cross-country ski trails. Summers are temperate, perfect for hiking, biking, driving or paddling your way to fun places near Rochester.
Saints and Sinners
Palmyra, birthplace of Mormonism, is about 13 miles east of Rochester. Stop by the Hill Cumorah Visitors Center for maps and information about historic sites related to the Church of Jesus Christ of Latter-Day Saints in the area. If you visit during July, plan on buying tickets for the Hill Cumorah Pageant, the story of that religion's founding played out on a 10-level stage. Victor, less than 20 miles southeast of Rochester, is the site of a community center built in 1879 and reputed to be haunted by an assortment of past citizens. Now home to a museum dedicated to local history, the four-story building provided a place to hide during Indian attacks.
"Fifteen Miles on the Erie Canal"
Many schoolchildren growing up in upstate New York learn the folksong, written in 1905, that warned canal boat riders "low bridge, everybody down." The Erie Canal runs for 363 miles from Albany to Buffalo, passing through downtown Rochester on its way. Completed in 1825, the canal's towpath provides a lane for hiking and biking. The remains of locks along the canal, in towns like Palmyra, Lyons and Newark, provide an opportunity to learn how lift locks work. Fairport, 20 minutes southeast of Rochester, is the port of call for Colonial Belle canal cruises. Two- and three-hour narrated tours include passage through a working lock.
A Little Bit of History
For jiggly giggles, stop by the Jell-O Gallery Museum in LeRoy, less than 30 miles southwest of downtown Rochester. Exhibits at the museum of "America's Most Famous Dessert" celebrate the stars who have promoted Jell-O on radio and television. Less than a block away, the LeRoy House has three floors of early 19th-century rooms. Genesee Country Village, six miles east of LeRoy, is a collection of historic buildings including homes, businesses and churches. George Eastman's boyhood home is on-site, as well as Nathaniel Rochester's house and a Shaker Trustees' building.
The Great Outdoors
Frederick Law Olmsted, designer of New York City's Central Park, created some of Rochester's 3,500 acres of public land. The nearly 300-acre Seneca Park, with views of the Genesee River Gorge in the center of the city, has hiking trails and a zoo. Ontario Beach Park, lakeside on the northern boundary of Rochester, has a sandy swimming beach, a historic Dentzel carousel and beach volleyball courts. A fishing pier juts into Lake Ontario at Webster Park, about 13 miles northeast of Rochester. The park has pickleball courts, a campground and groomed cross-country skiing trails.