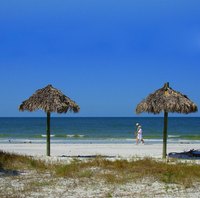 A quick weekend getaway is the perfect time to take a break from the stresses of work, leave home and spend some quality time with the one you love. When budget is a concern, it can be a challenge pairing your need to get away with your lack of travel funds. Fortunately, there are lots of options of traveling couples on a budget.
Florida
Florida is a hot spot for vacationers looking for sun, sand and warm temperatures. Airfare is often reasonably priced around $200, and off-season trips or mid-week flights may run under $100 per seat. For the ultimate in romantic spots, head to Florida's Lee Island Coast and visit the beaches of Lover's Key. The state park overlooks the warm waters in the Gulf of Mexico, and it has been named the state's most romantic parks. The area is teeming with wildlife like shore nesting birds, bottle-nosed dolphins and sea turtles. Enjoy the scenery, relax and catch up on conversation with your partner.
Vegas
Another affordable getaway is weekend trip to Las Vegas. The frequent daily flights in and out of the city make airfare highly affordable, and the number of hotels which saturate the Vegas area mean that you can find a comfortable room for less than $100 a night. You and your partner can spend time in the casino, take in a show or a concert and even spend time hiking and biking in and around the city. For a truly romantic weekend getaway, take advantage of the Vegas wedding scene. Head to a chapel to elope, or renew your wedding vows Vegas-style.
Local B&B
You don't have to go far from home to experience an inexpensive weekend getaway. Skip the airfare and the high price of gasoline, and go on a staycation instead. Look through your local business directory to find a local bed and breakfast where you can stay for the weekend. You may be surprised to find elegant, reasonably priced getaway locations right in your own city.
Last Minute Deals
Watch for last-minute deals and cancellations when you are planning a weekend trip. Exclusive couples' resorts like Sandals and cruise lines like Princess and Celebrity often run specials for last-minute deals when there is a need to fill open rooms a day or two before the vacation date. An all-inclusive stay with romantic dining for two and private suites may be offered at savings up to 75 percent off the regular price.