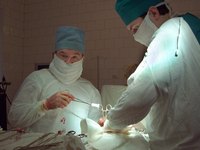 It's easy for hospitals to run up expenses and exceed their budgets. Especially when times are tough, they seek cost-cutting strategies; however, it's hard to cut costs without compromising patient care. Fortunately, hospitals staffs have come up with clever strategies over the years for reducing hospital costs and saving money in ways that don't hurt patients or reduce the quality of services offered.
Trash and Recycling
Effectively managing trash and recycling can be a surprising way for hospitals to save money. Stanford Hospital in Palo Alto, California reduced costs by $87,000 per year when it switched to smaller, more space-efficient dumpsters and cut back on the trash collection schedule "See Reference 1."
The hospital also began to recycle platinum tips from used catheters. Recycling the platinum became a source of revenue for the hospital, netting thousands of dollars per year from the recycler.
Laundry and Supplies
Hospitals can also save money be de-linting only the towels used in the operating rooms, rather than all towels. This can save up to $150,000 per year.
Laundering towels is still a better cost-reducing option than buying disposable towels. Switching to reusable towels can also save a considerable amount of money at hospitals and reduce waste. Annual savings run around $114,000 "See Reference 2."
Supplies
Stanford Hospital also reduced its costs by switching to a cheaper but still effective brand of gloves, saving a bundle in the long term. Other hospitals, such as El Camino in Mountain View, California, started buying more efficient packs of operating supplies rather than bundles containing unnecessary items such as gowns, drapes, towels, and syringes,and sutures that went unused "See Reference 2."