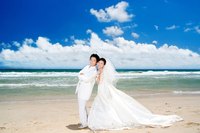 Florida's year-round mild climate is perfect for a cheap outdoor wedding in a beautiful natural setting or a theme wedding based on an activity or interest. Weddings held in traditional venues can run tens of thousands of dollars, but with a little creativity, your wedding can be spectacular, memorable and cheap. Marriage licenses are available to residents and non-residents and have a mandatory three-day waiting period for any couple unless they attended a state-sanctioned marriage counseling class within the previous year.
Beach Weddings
Florida's endless beachfront and temperate year-round climate makes beach weddings a popular choice. Wedding outfitters in any beach city will provide a package deal, but to really save money, do it yourself. White fabric draped over folding chairs and tied with ribbons and a simple garden arch or trellis draped in gauzy fabric and decorated with ribbons and flowers creates an elegant seaside setting while lending traditionalism to the scene.
Beach wedding dress can range from bare feet and Hawaiian shirt casual to a formal gown and white tie tuxedo. The theme should fit your own personal vision and style. Permits may be necessary depending on location. Check with local government or state park management for details.
Park Weddings
Florida means "Land of Flowers" and the name fits. Lakeside parks, lush country settings and botanical gardens brimming with flowers and foliage make a beautiful outdoor setting for a cheap wedding. Find a location with a lakeside gazebo that can be reserved and make it special by hiring a horse and carriage for the bride and groom. Permits vary by location; check with local parks management for details.
Weddings on the Water
Small, intimate cruise weddings are a little more expensive but still nowhere near the cost of a traditional wedding. For approximately $700 wedding couples can invite up to four extra guests for a romantic sailboat wedding at sea and add a mini-honeymoon alone on board for a few hundred more.
Nearly every Florida beach and waterway is populated with boats for hire, and many will accommodate a wedding party if asked. For a wedding theme that fits a specific activity or interest on a budget, look for dive boats, airboats, fishing charters, party boats or dinner cruises.