If your face is often red, blotchy and inflamed, you may have a condition called rosacea. While there is no cure for rosacea and doctors are unsure of exactly what causes it, eating certain foods and avoiding others, may help ease your rosacea symptoms. If you do not have rosacea but suffer from red, inflamed skin, these tips may help you as well. Please note that diet is not a cure-all for rosacea, and should be combined with the proper approach to medication, sun and weather exposure, exercise, stress management and skin care.
Foods to Add to Your Diet
In general, following a healthy diet is your best option. Foods high in omega-3 fatty acids, such as salmon, mackerel, walnuts and flax seed oil have a calming effect on inflamed skin. Additionally, fruits, vegetables and whole grains can help. Chicken, fish and tofu are thought to cause less inflammation than red meat does. Cherries, blackberries and blueberries are vasoconstrictors, which cause a temporary narrowing of the blood vessels in your face, thereby reducing the red flush sensation. Foods with lean protein and/or fiber are metabolized slowly and will keep your body's heat level down. Drinking plenty of water throughout the day will help calm and cool your body and your skin.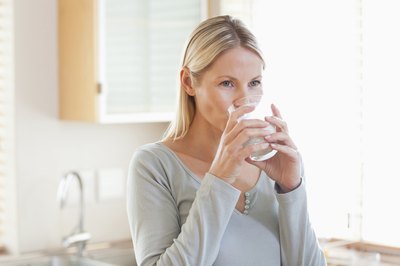 Foods to Avoid
While some foods may trigger a rosacea flare-up in one person but not another, alcohol, vinegar, hot beverages and spicy foods such as peppers are considered most likely to bring on a bout of red, blotchy, inflamed skin. The reason behind this is that these foods are vasodilators, which open up the blood vessels in your face, bringing on a flushed appearance. Other foods to avoid are sugars or any foods that give you a quick burst of energy. While they may temporarily heat up your metabolism, they may also heat up your face, bringing on redness and inflammation.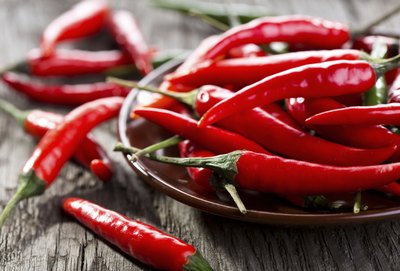 Foods to Eat Sparingly or Monitor
Many animal products, such as meat, milk, cheese and yogurt contain an acid that is thought to induce inflammation. Some rosacea sufferers report flare-ups after eating such varied foods as artificial sweeteners, spinach, broad-leaf beans and pods, eggplant, chocolate, vanilla, soy sauce, avocados, yeast extract, plums, raisins, figs and citrus fruits. As every case seems to be different, your best bet is to monitor your intake of these foods and to see how they affect you individually. Keeping a food journal is an efficient way of doing this, as it allows you to accurately compare your flare-ups with any foods you have eaten.