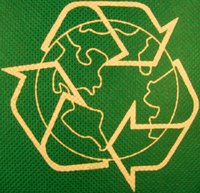 Corporations that do not recognize the impact of environmental management on their organizations cannot expect to remain competitive. Managers should make every effort to make ethics based decisions, i.e., manage environmental challenges voluntarily and on their own terms, rather than making compliance based decisions (changes made only when required by law). Companies that choose to implement best practices based on ethical standards (which are often far more strict than regulatory standards) have the opportunity to become known as leaders within their individual industries.
Waste Management
Managers must first identify all types of waste produced by the organization, from garbage to gases. They must then determine a way of measuring this waste. Finally, they must choose and implement best practices for both reducing waste and disposing of those wastes that cannot be completely eliminated. In some cases, one company's waste can be another company's fuel source. For example, landfill gases can be used to fuel a boiler. Managers must be prepared to invent creative ways of decreasing the amount of waste their organizations put into the environment.

Developing Green Products
According to the Conservation Value Institute, green products are those "whose manufacturing, purchase and use allows for economic development while still conserving… the earth's biological diversity and supporting ecological processes… and the components of our economy and quality of life that require natural resources." One of the challenges of environmental management lies in developing products that, by design, will create less waste. Consumers are interested in purchasing green products more than ever now, and the numbers of consumers who actively seek out green products is also growing.

Stakeholder Participation
Stakeholder participation is perhaps one of the greatest challenges of environmental management. Without stakeholder buy-in, environmental initiatives will likely fail. Stakeholders include anyone who has a stake in the organization's success and is not limited to shareholders. Employees, customers and even the local community are all stakeholders, and their participation is key to the success of any environmental management initiative. Environmental management must be institutionalized. In other words, it must be integrated into the organizational culture so that participation is a given. Stakeholders must be educated on the importance of environmental management before they can embrace and contribute to its ultimate success.