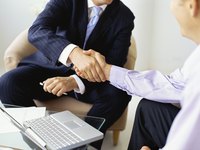 Due diligence is a process companies use to thoroughly review information or operations of other businesses, agreements and contracts. Business owners and managers use due diligence prior to engaging in services or agreements to ensure no improprieties exist and that all services are equitable between both parties in the agreement. Many companies use due diligence when using vendors, which represent companies who supply the materials needed to produce goods and services.
Operational
An operational due diligence review allows companies to analyze how a vendor operates and will fill each order for raw materials or services. This process is important if a company expects to place several orders with a vendor. Business owners and managers typically look at the quality of vendor materials, ease of ordering, financial billing practices and the long-term viability of the vendor. Poor vendor operations can lead to a delay in a company's production process, which often leads to fewer sales and lower profits.
Financial
Financial due diligence is somewhat difficult to conduct on a vendor unless business owners and managers directly ask to see this information. Larger organizations typically engage in a lengthy due diligence process and may request specific information regarding finances. Owners and managers review this information to verify the facts told by the vendor company's management team. Vendors unwilling to supply this information may be less reliable than other suppliers. Key information to review can include consistency of income, cash flow, resource cost increases and outstanding liabilities.
Contractual
Organizations may desire contractual agreements with vendors. These contracts ensure fixed costs for a set period of time. Owners and managers use contracts to hedge against future cost increases or the scarcity of future resources. Due diligence in the contract process is often a point where attorneys review these documents. This ensures that companies are receiving benefits from the contract and are not overextending resources that will result in the loss of capital or other operational resources.