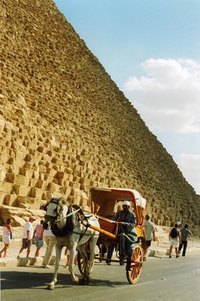 In a 2003 article for The Environmentalist, Profession Nicholas Hopkins of the American University, Cairo, Egypt, says that Arab countries are finally starting to take environmental issues seriously and are setting up government agencies to address them. He says that Egyptians are consumed with problems of sewage, garbage and clean streets and that air, water and noise pollution are of secondary importance. Strangely, Egyptians do not blame global environmental phenomena for pollution but rather blame each other.
Air Quality
The World Health Organization claims that air quality in Cairo, Egypt, is up to 100 times what is considered a safe limit. This, according to the United States Environmental Protection Agency (EPA) causes a serious risk of developing serious respiratory disease and cancer from inhaling particulates in the air. There are three main causes of air pollution in Egypt: transportation, industrial and meteorological.
Transportation
Many Egyptians rely upon extremely old vehicles for transportation. These inefficient vehicles cause the carbon present in fuel to ineffectively react with oxygen during combustion, producing carbon monoxide or condensing to form particles of soot. The hydrocarbons do not combust completely and are released as gaseous hydrocarbons or absorbed by particles, increasing the particulate mass in the air.
Industrial
Industrial facilities such as factories and plants emit toxic gases into the atmosphere. Another major source of toxic emissions in Egypt is the widespread open-air burning of trash and waste. Waste landfills also give off methane, which, although not toxic, is highly flammable and can react in the air with other pollutants to become explosive. Major industrial pollutants include sulphur oxides, nitrogen oxides, carbon monoxide and carbon dioxide.
Meteorological
The speed at which pollutants disperse in the air is determined by meteorological conditions such as wind, air temperature and rain. Egypt and Cairo, particularly, have a very poor dispersion factor due to lack of rain and the layout of streets and buildings, which are not conducive to air flow.