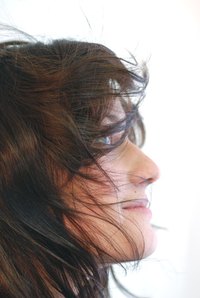 Mid-length choppy hair is both extremely versatile and flattering. Because of the many options available to style mid-length hair, you do not become a slave to your style with demanding hair care routines. Mid-length choppy hair can be tied back when time is limited but is also quick to style when left loose because of the choppy, "messy" nature of the cut. A new choppy cut can make you look and feel like a new person. Speak to your stylist before the haircut so he will cut the layers to accentuate your best facial features, such as your eyes or lips.
Shaggy Chop
A shaggy chop is ideal for those who like a laid-back and easy-to-maintain style. The shaggy chop consists of lots of choppy layers of varying length throughout the hair. A shaggy chop is easy to style first thing in the morning: simply wash and rough dry using your hairdryer and fingers. To define shaggy layers, use wax to pull, tease and accentuate the layers in your cut. The style should look effortless and natural as opposed to immaculately styled. A shaggy style can also be easily accessorized with a boho hair band or flower to compliment your look.
Choppy Bob
A mid-length choppy bob has been spotted on countless celebrities. The style is chic, flattering and easy to maintain. Choppy layers throughout a mid-length bob add movement, texture and interest. Mid-length bobs also offer more versatility than shorter styles since they can be blow-dried straight and sleek or tousled and wavy. Graduated bobs and playing around with layer lengths can personalize your cut to suit your face shape and personal style. Bobs are no longer short and sleek; the latest bob styles are textured, choppy and edgy.
Choppy Bangs
Choppy bangs are great for those who are trying to grow their hair or want to add interest to their mid-length style. Adding bangs to your mid-length style can significantly change your look. Bangs can be blunt, choppy or layered and side-swept to compliment your current choppy look. Choppy bangs can be created using a razor or carefully crafted by your stylist using scissors. Choppy bangs may not be suitable for all hair types, but your stylist should be able to work with your hair texture to create the perfect bangs for your hair.