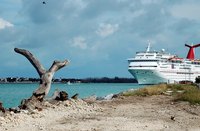 Relaxing on a cruise is a dream vacation for most of us. However, even though you will be living in a stateroom for a number of days, there are limits to what you can bring aboard. Every cruise line has a list of permitted and restricted items, and Carnival is no exception. Check with the cruise line before packing, as rules are subject to change.
Luggage Basics
As of August 2010, Carnival allows each passenger to check two suitcases. Size and weight limitations are similar to those imposed by the airlines. Suitcases should weigh no more than 50 pounds, while size limitations require bags not exceed 16 by 24 by 30 inches. Bags are screened after check-in and any prohibited items will be confiscated. Carry-on bags should not exceed 6 by 24 by 30 inches.
Alcohol and Soft Drink Policy
Cruise passengers who are at least 21 years old may bring one bottle of wine or champagne that does not exceed 750 ml packed in a carry-on bag. A "small amount" of nonalcoholic beverages may be brought aboard in a carry-on bag or small cooler that does not exceed 12 by 12 by 12 inches.
Miscellaneous Items
Carnival has a list of items ranging from hair dryers to musical instruments that fall into a miscellaneous category. Rules for usage apply to many of these items. For instance, personal grooming electronics such as electric shavers, curling irons and hair dryers are allowed aboard but cannot be used when other appliances are also plugged in. Cameras, laptop computers and cell phones are welcome, while video games that must be connected to a television set are allowed only in suites. Anyone bringing a radio or boom box must have headphones in order to use it. The following items may be brought on board but used only in port: snorkel gear, skateboards, golf clubs, fishing rods, tennis rackets, kites, roller blades or skates and metal detectors.
Prohibited Items
Carnival maintains a list of items that are prohibited. These items may be confiscated if you attempt to bring them on board. Carnival considers the following items to be potentially dangerous or a risk to security and safety: alcohol in sealed, unopened bottles; beer in sealed, unopened bottles or cans; wine or champagne in sealed, unopened bottles beyond the allowable limit of one bottle per adult, brought on at embarkation time; clothing irons and steamers; electrical and household appliances, such as coffee makers, hot plates and toasters; candles; heating pads; incense and hookahs. The prohibited list also includes the obvious--explosives--and the not so obvious--bicycles.