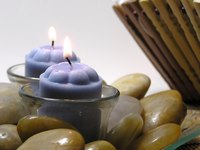 Health spas, whether they exist in Houston or any other city, can offer a number of different services, so what one spa offers, another might not. Generally though, health spas offer services designed to improve people's appearance and well-being, including massage therapy, pedicures and manicures and skin care. Each of these services has their own set of requirements which you'll need to complete before you open your health spa.
Unlike other cities, the city of Houston does not have a general business license, so most the requirements for opening a health spa fall under state jurisdiction.
Cosmetology
In order to offer masks, facials, waxing and other skin care-related services, the person performing the tasks must have a valid cosmetology license issued by the Texas Department of Licensing and Regulation. In addition, the spa itself must have a cosmetology salon license, or a specialty spa license issued by the Texas Department of Licensing and Regulation.
You can download the entire Cosmetology Law document, which includes specific rules on the operation of a cosmetology business, and find the appropriate forms at the Department of Licensing's Cosmetology Law Web site.
Massage
Massage therapists practicing in the state of Texas must hold a valid massage therapy license issued by the Texas Department of State Health Services. Likewise, a spa employing massage therapists must have a Massage Establishment license issued by the Department of State Health Services.
Download the forms for obtaining these licenses by visiting the Department's Massage Therapy Licensing Program homepage. The Texas Administrative Code has specific requirements for the cleanliness and operation of a massage establishment, available at the Texas Administrative Code "Massage Establishment" site.

Sales Tax Permit
You must obtain a sales tax permit to operate in the state of Texas, according to the Texas Comptroller of Public Accounts. You can apply for the sales tax permit online by going to the Comptroller's Texas Online Tax Registration Application.
Federal Tax Identification
The Internal Revenue Service requires that you file for an Employer tax Identification Number, also called the EIN, when you start any new business. Visit www.IRS.gov to obtain your EIN.
Assumed Name
Harris County, which includes the city of Houston, requires that you file an assumed business name form, also called a DBA form, in person. The DBA will be valid for 10 years. File for the DBA at the Harris County Clerk's office.