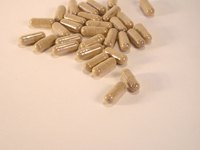 Nothing can replace adequate sleep, a healthy diet and regular exercise for supplying the human body with sufficient energy. However, once these three vital elements are in order, the right energy pill will help pick up any remaining slack in energy level. There are five supplements that make the top of the list for their natural make-up and cost efficiency—none exceed the price of $60 for a one-month supply. All dosage advice is for healthy adult men and women in their appropriate weight range.
Ginseng
Ginseng is an herbal adaptogen. Adaptogens assist the body in adapting to different stresses. Be it a long work day, an intense yoga class at the gym, or an argument with a friend, ginseng will help your body navigate the stress. In turn, this revitalizes energy levels because stress robs the body of energy. Different types of ginseng grow in Asia, Serbia and North America. A daily dose of 100 to 300 milligrams for three weeks on and two weeks off is satisfactory. This dosage will reduce possible negative side effects such as headaches, insomnia, asthma attacks, skin rashes, diarrhea, heart palpitations, increased blood pressure and reduced blood-sugar levels. Those who already suffer from high blood pressure, hypoglycemia, hay fever, asthma, insomnia, emphysema, heart disorders, blood-clotting problems or diabetes should consult a physician prior to taking ginseng supplements.
Maca
Maca is found in the Peruvian Andes Mountains. According to legends, warriors of the Incan Empire ate maca root before battle. Andean people have used this herbal supplement for centuries. It is an adaptogen, much like ginseng, but it is also rich in nutrients. Consuming 200 milligrams to one gram per day is the proper dosage. There are no known negative side effects of maca.
Rhodiola
Rhodiola, known as "golden root" or "arctic root," is an adaptogen grown in the mountains of Siberia. Russian scientists discovered this supplement decades ago, and studies have shown that athletes taking rhodiola experience higher endurance, more attuned mental performance and additional fat burning. A dose of 100 to 300 milligrams per day is ideal. Side effects may include allergic reaction and, if daily dosage exceeds 800 milligrams, irritability and insomnia may occur. Pregnant or nursing women should consult a physician prior to taking rhodiola supplements.
NADH
NADH, which stands for nicotine adenine dinucleotide, is a molecule within the body partially composed of vitamin B3. This energy-carrying molecule takes digested food and converts it into ATP, the body's form of fuel. The average healthy person will not benefit from additional synthetic NADH in general use. Supplements of this molecule heighten energy under specific types of stress, such as excessive exercise. Two and a half to 15 milligrams per day is an adequate dosage. Appetite loss and nervousness during the first days of supplementation are the only reported side effects.
Pyruvate
Pyruvate is a compound that results from the body breaking down carbohydrates. It then enhances energy by supporting the production of ATP. People on a low-carbohydrate diet will experience increased energy levels and fat burning while taking synthetic pyruvate. However, desired effects require extremely high doses. Researchers have used at least 20 grams in studies, and the recommended dosage is five to 10 grams per day. The only known side effect is possible gastrointestinal discomfort.