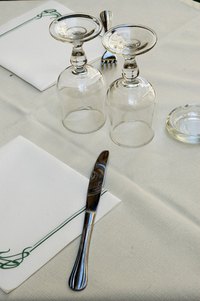 Unique restaurants are a great way to spend a fun evening with friends and family. If you want to dine on food that you can't find just around the corner and be entertained with either a show or live music, New Jersey has plenty to go around, from medieval entertainment to Reggae beats.
Hunterdon Hills Playhouse
How about a little dinner theater? Hunterdon Hills offers year-round entertainment in the form of live theater. The menu changes at the beginning of each play change. It has ranged from pot roast to leg of lamb to turkey with stuffing.
Hunterdon Hills Playhouse 88 Rte. 173 W. Hampton, NJ 08827 800-447-7313 hhplayhouse.com
Mompou
Mompou is a tapas (Spanish for appetizer) and wine restaurant featuring live music on Sundays, Wednesdays and Thursdays and DJs on Friday and Saturday. The menu ranges from patavas bravas to falda a la plancha.
Mompou 77 Ferry St. Newark, NJ 07105 866-99-TAPAS mompoustapas.com
Medieval Times
Watch gallant knights compete with weapons on horseback, be treated like royalty from the servants and dine on such fare as oven-roasted chicken and tomato bisque.
Medieval Times 149 Polito Ave. Lyndhurst, NJ 07071 866-543-9637 medievaltimes.com
Ja Rock Restaurant
If you love the sound of Reggae music and enjoy the taste of Jamaican food, Ja Rock Restaurant is just the place for you. The restaurant has a variety of jerk food, and chef specialties include stuffed cornish hen and curry shrimp.
Ja Rock Restaurant and Catering 1218 Rte. 166 Toms River, NJ 08753 732-244-5055 jarockrestaurant.com
Trinity Restaurant
This restaurant opened in 2007 in a 130-year-old restored church. The restaurant offers cuisine such as "divine swine BBQ," pork osso bucco, filet mignon and chicken milanese.
Trinity Restaurant 84 Broad St. Keyport, NJ 07735 732-888-1998 trinitykeyport.com