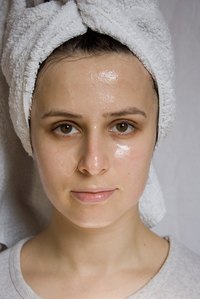 Many individuals are dissatisfied with the texture or tone of their skin. Fine lines, hyperpigmentation, acne and rough patches can make skin look dull, tired and unhealthy. Fortunately, alpha hydroxy acids (AHA) are often able to alleviate these skin problems. There are different types of AHAs, including glycolic acid, malic acid and lactic acid. AHAs, which are are usually derived from natural food sources, are chemical compounds that have exfoliating and moisture-binding properties, making them beneficial to the skin in topical applications.
Reduces Fine Lines
AHAs work as intensive exfoliants that help to loosen the bonds holding dead cells together on the surface of the skin, so that new cells are able to grow. This improves the texture of the skin and diminishes the severity of fine lines and wrinkles. According to Acne Treatment, AHAs also promote the production of collagen and elastin, which help to firm and thicken the skin, so fine lines appear smoothed. In addition, AHAs stimulate the skin so it moisturizes itself naturally, giving skin a plump appearance. Individuals who wish to reduce the look of fine lines and wrinkles can use AHAs in products like creams, lotions or serums that can be applied on a daily basis, or they can receive chemical peels that utilize a higher concentration of AHA than is present in over-the-counter products. These peels can be performed by a dermatologist or esthetician and usually must be performed more than once for the best results.
Treats Acne
The exfoliating properties of AHAs benefit acne sufferers because the removal of dead skin cells decreases the likelihood that pores will become clogged with acne-causing debris. While AHAs do not stop the skin from producing oil, they help to remove the excess oiliness that often leads to clogged pores and acne. According to Acne Treatment, AHAs are helpful in removing discoloration left by acne scars as well. For acne sufferers with oily skin, chemical peels with a high concentration of AHA may be the best option, while people with dry skin should opt for over-the-counter creams and lotions that are less intense.
Evens Out Skin Tone
Because AHAs exfoliate the skin and remove dead cells, they are also helpful for individuals who struggle with hyperpigmentation, age spots or sun damage. For those who want to improve the clearness of their skin, using AHAs in a chemical peel that has a higher concentration than over-the-counter AHA products may be a more effective method. Multiple treatments may be necessary to see desired results.
Helps Dry Skin
Individuals who have dry, flaky skin on the face or other parts of the body may benefit from the use of AHAs as well. They help to remove the dead skin cells that give skin a rough, dry texture and allow new, smooth skin to emerge. For dry skin, it is best to use an AHA cream or lotion that can be applied daily.