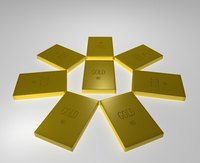 As with any other commodity, the price of gold is determined by demand and supply. Gold is known as the global currency of the last resort and the "barometer of fear." This means that when people are worried about the economy, they turn to gold, increasing the demand and pushing the price up. The supply of gold is relatively stable, so it is mainly the demand side that affects the price of this precious metal.
Supply
Gold that can be traded on the market comes from three main sources: mining, recycling and central banks. Mining is a relatively stable source, and according to the World Gold Council, opening of new mines serves mainly to replace the old ones, without increasing the global supply. Recycled, or scrapped, gold is also more or less a constant, contributing around a quarter of the total supply. Finally, gold comes from central banks such as The Fed, who are the largest net sellers. Most central banks hold some of their reserves in gold. While the average figure is around 10 percent, the United States holds around 75 percent of its reserves in gold, according to the World Gold Council.
Demand
Gold has industrial and scientific use, accounting for around 10 percent of the global demand. Two-thirds of global supplies are used by the jewelry industry, with demand rising during periods of price stability or gradually rising prices. The main part of the demand side influencing the price of gold is investment. Investing in gold can mean buying physical gold or any of the gold-related investment products.
Inflation and Deflation
Prices go up when the supply of money is increased. More money in circulation makes it worth less. When that happens, people turn to hard assets such as gold, which don't lose their value over time. Similarly, deflation--when prices go down--is a sign of falling levels of economic activity. This, again, makes people want to preserve their capital, and gold here makes a good option. In both cases--inflation and deflation--it is primarily the value of the U.S. dollar, more than any other currency, that determines the price of gold.
Gold and the Dollar
Because it is priced in dollars, gold is affected by the movement of the greenback. There are many reasons why the U.S. currency may change its value, but one thing is constant: when the dollar goes down, gold goes up and vice versa. This is because when the dollar is weak, gold becomes cheaper for investors holding other currencies. When they start buying gold, the price of it goes up. Also, the U.S. dollar is the main reserve currency in the world, so when it is weak, it prompts central banks to protect their holdings by selling dollars and buying gold. This again pushes the price of gold up and has a further negative effect on the dollar.