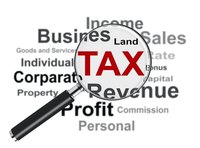 Continually changing and increasingly complex tax guidelines work in your favor it you are looking to open a tax office. However, opening and running a successful tax business requires close attention to not only general start-up tasks such as writing a business plan and purchasing equipment, but also to Internal Revenue Service regulations and other industry-specific procedures.
Register with the IRS
Review and comply with Internal Revenue Service requirements for professional tax preparers and businesses. As of 2014, these include becoming an authorized e-file provider and registering for - or renewing -- a Preparer Tax Identification Number. According to the IRS, all states that collect income tax require IRS e-file authorization as a prerequisite to filing state tax returns electronically. Start early, as it takes about 45 days for the IRS to approve an e-file application. Apply for or renew a PTIN by mailing in Form W-12, which takes up to six weeks to process, or by registering online at IRS.gov, which takes about 15 minutes.
Hire Qualified Employees
Recruit, interview and hire experienced accounting and administrative personnel. Non-certified accountants aren't qualified to act as a primary financial services provider. However, if you're starting out small, focus only on tax preparation and have a certified public accountant designation, hiring non-CPAs with tax preparation experience can reduce payroll expenses. However, if you plan to offer additional services, such as estate planning or new business accounting system development and set-up, consider hiring at least one additional CPA.
Get Industry-Specific Insurance
Get professional liability insurance for tax preparers to protect your business from risks not typically covered by general commercial liability insurance. Professional liability insurance for tax preparers, which is a type of errors and omissions insurance, protects your business -- and personal assets if you are a sole proprietor -- from errors, omissions or negligence committed by you or an employee while performing professional duties and preparing tax returns. It also covers penalties and interest for tax return miscalculations the IRS may levy on your clients.
Prepare a Privacy Notice
The Gramm-Leach-Bliley Act of 1999 requires tax businesses to provide all clients with a written privacy policy notice. The privacy policy must reassure clients that your business does not share non-public client information, and that it maintains physical, electronic and procedural controls to safeguard non-public information. You must identify the policy with a clear, conspicuous and descriptive label whether you provide privacy information in a separate document, a separate page or within a standard business letter.