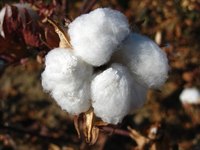 Cotton is the best-selling fiber in America, outselling all others combined. The exact origins of cotton are unknown; however, Cotton Incorporated believes cotton may have existed in Egypt as early as 12,000 B.C. Cotton has proven to be popular and a valuable crop around the world. Cotton is also a versatile fabric. Types of 100% cotton include Pima and Egyptian cotton.
Comfort
Cotton is a hypoallergenic fabric, meaning it is ideal for those prone to allergies or skin irritations. Cotton Inc. points out that because cotton is hypoallergenic, it is widely used in the medical field, in medical scrubs, gauze and bandages. Cotton is soft to the touch, making the texture comfortable for a wearer. This "bulk" texture can also add protection from the heat in warmer temperatures and keep the wearer warm in cooler temperatures. Cotton is also a breathable fabric; it has the ability to transfer moisture away from the skin at a quicker rate than synthetic fabrics. Another benefit of cotton is its absorbency, making it ideal for towels. Cotton can absorb up to 1/5 of its weight before it begins to feel damp, according to cottonpromotion.org.
Natural Fiber
Natural fibers are an important choice for the environment. They cost less to produce, use fewer chemicals and pesticides, and help protect the environment. Natural fibers, such as cotton, are a renewable resource; goods made from cotton can be produced at a quicker rate than humans can consume. Cotton is also biodegradable, meaning it will decompose in a natural environment. Non-biodegradable resources, such as rubber, can take thousands of years to decompose. Even disposable diapers take approximately 500 years to decompose, making cotton diapers a much more ideal choice for the environment.
Maintenance
Cotton clothing is low-maintenance because of its natural fibers. Man-made fibers, such as polyester, tend to require more tedious care. Cotton is a durable fabric, which is why it is widely used in household items such as curtains, bed sheets and bath towels, and in clothing. It also shows fewer wrinkles. Cotton is less likely to shrink during wash than some other fabrics, especially when it is air-dried. Cotton attracts enough moisture, even in low humidity, to remain static-free.