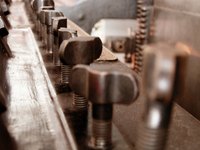 Equipment breakdowns cost industries millions of dollars annually. In many cases, critical machinery is irreplaceable unless ordered months in advance. Therefore, establishing a comprehensive preventative maintenance program, in an effort to prevent equipment failures, is easily justified. For an effective program, the right inspections, performed at the right times, and to the right equipment, is imperative. Often, a preventative maintenance checklist, developed by the equipment manufacturer or operator, establishes the tasks of the program.
Clean
Cleaning is a fundamental part of a preventative maintenance program. Clean machinery, much like a clean car, lasts longer and experiences less problems. Build up of dirt, grime or other process material, penetrates electrical components and moving parts. Once this happens, the machinery begins to wear at an accelerated rate.
Adjust
Equipment, especially precision equipment, requires various adjustments to operate at its peak efficiency. Extended operation will eventually require re-adjustment. If the equipment continues to operate outside its prescribed adjustment requirements, it will eventually break down. Machine timing is an example of an adjustment often required periodically.
Lubricate
Friction of moving parts contributes to heat and wear. Lubricants such as oil and grease form a barrier of sorts between moving parts--reducing friction, and therefore reducing heat and wear. Checking and adding appropriate amounts of lubricant as part of the preventative maintenance program, helps reduce wear and keeps the machine operating as designed.
Measure
Measuring specific equipment parameters is also a critical function of the preventative maintenance program. An engine experiencing an increase in exhaust temperature, or reduced oil pressure, serves as a warning sign of an impending problem. By catching the warning sign early, adjustments or minor repairs can be performed before a more serious equipment failure.
Observe
Many times, a machine will look, sound, or smell different than normal when a problem starts. Simply by observing the machine's normal operation on a regular basis, an abnormal sound or smell is easily identifiable. When irregularities are noticed while performing a preventative maintenance checklist, the problem can be corrected, and a more serious failure avoided.