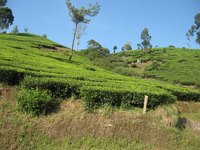 The neem tree is native to Burma and east India. This tropical evergreen, which is related to the mahogany tree, has spread to west Africa, Southeast Asia, Mexico and the Caribbean. But it is most identified with India, where it has been cultivated for thousands of years and is considered sacred. The neem needs little water, and thrives even in extreme heat. It is valued for its properties for dental care, in healing disease, and as a natural pesticide.
Toothbrush
While urban Indians use commercial toothpaste and toothbrushes, the 80 percent of the population who live in rural areas still start their day with the neem datum. This toothbrush, made from a twig of the neem tree, has long been used by Indian people to keep their teeth clean. Other types of datun, or toothbrushes, are made from other tree species, but the neem datum has many medicinal and anti-bacterial properties.

Chewing Neem
Instead of brushing, some people chew on neem twigs for 10-15 minutes. This way, the juice is absorbed into all parts of the mouth.
Mouthwash
Researchers at the National Botanical Research Institute in Lucknow, India, have teamed up with experts at King George's Medical College to patent a mixture of neem bark and the roots of a plant called tumba. They plan to market this as the world's first Ayurvedic mouthwash. Ayurveda is an ancient system of medicine developed in India. Like other mouthwashes, this new concoction will prevent plaque, which leads to dental diseases like gingivitis.
Other Commercially Manufactured Products
Since the 1980s, American and Japanese firms have taken out more than a dozen patents on neem-based products, including toothpaste. As the rest of the world becomes familiar with the medicinal properties of neem, some Indians worry about exporting neem for profit. They are concerned that all the neem will be exported, and none will be left for them, a phenomenon they term "biopiracy." The Indian government might pass legislation banning the exportation of neem seeds.