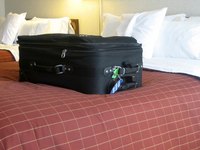 Themed hotels define what holidays are supposed to be about: seeing and living out dreams and fantasies. Whether it's cowboy-Western decor or Jungle Fever, there are themed hotel rooms for every set of interests. Themed rooms are memorable accommodation options, especially for families with kids, or couple looking for a little imagination and romance.
Wildwood Inn Tropical Dome and Theme Suites
In operation since 1932, the Wildwood Inn Tropical Dome and Themed Suites in Florence, Kentucky, has themed family rooms, such as a Central Park room, an Aladdin room, an Aztec Jungle room, a Polynesian room, a speedway room, a Western room and a Tennessee cave room. The hotel also has romantic themed rooms such as, Royal room, a New Mexico cave room, a pirate ship room, a Safari Hut room, a Venetian room and a Tree House room. The hotel is home to a Tropical Dome with jungle plants, palms, a heated pool, a waterfall spa and climbing area.
Wildwood Inn Tropical Dome and Suites 7809 U.S. 42 Florence, KY 41042 859-371-6300 wildwood-inn.com
Jailers Inn
Jailers Inn Bed and Breakfast is in Bardstown, Kentucky. Its exterior is built of stone walls and the windows are iron-barred, just like a jail. Guests shouldn't be fooled by its outer appearance because inside the hotel are six gorgeously decorated themed rooms. Rooms include a Victorian Room, Colonial Room, Library Room, Garden Room, 1819 Room and last but not least, the Jail Cell. This hotel is perfect for history buffs, with a taste for luxury, or for guests with a naughty streak. The hotel offers full breakfasts, private baths, Jacuzzi rooms and complementary tours through the historic jail.
Jailers Inn Bed and Breakfast 111 W. Stephan Foster Ave. Bardstown, KY 40004 502-348-5551 jailersinn.com
Great Wolf Lodge
Great Wolf Lodge is only 35 minutes down the Interstate 75 and U.S. 42, north of the Kentucky border in Ohio. Guest can enjoy sleeping in the Wolf Den. It is a cave-themed suite with bunk beds. It's great for kids because it has a personal 20-inch flat screen LCD television with Nintendo. The den also has a queen bed for adults and another television, with orderable movies and a Nintendo. A patio and balcony are attached to the suite to enjoy the fresh night air. During the day, the whole family can splash around in the water park, relax at the spa and then have a tasty dinner at the Loose Moose Cottage.
Great Wolf Lodge 2501 Great Wolf Drive Mason, OH 45040 513-459-8885 greatwolf.com