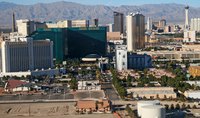 Las Vegas has numerous nightclub options for its African American tourists and locals. Find African American music at such clubs, including rhythm & blues (R&B), hip-hop, funk, blues as well as techno and Top 40 options. Experience Cajun, southern and creole dining or enjoy a club's comedy night. Clubs feature live music or DJs, if not both, including celebrity DJs.
Poetry Nightclub
Poetry Nightclub claims it's the premiere hip-hop music destination in Las Vegas. The club prides itself on detailed VIP customer service and celebrity appearances. Venue decor includes "soft chocolate hues intertwined with black and red accents" (see Reference 1), black sheets and red roses and chandeliers made with black Swarovski crystals. Club design also incorporates poetry on the napkins, ceiling, floor and walls, hence the club's name. The VIP dance floor often doubles as a stage for celebrity guest entertainers. Comedy nights and Poetry Battle of the Sexes are regular events.
Poetry Nightclub 3500 Las Vegas Blvd. S. Suite L3 Las Vegas, Nevada 89109 702-369-4998 www.poetrynightclub.com
rumjungle at Mandalay Bay
Celebrity DJs play hip hop, R&B, funk, techno, Top 40 and international rhythms at the rumjungle at Mandalay Bay. The club is separated by water walls into five sections and, according to the Soul of America web site, it is one of the top-shelf dance scenes on the Las Vegas strip. Go-Go dancers and bare-chested male models abound and cuisine includes Brazilian, Caribbean and Cuban. Try the Corn-fried Calamari or the Chopped Peruvian Salad. A blazer or collared shirt must be worn if paired with denim jeans. Cover charge is generally $40, but varies depending on the night of the week. The club also has dinnertime hours.
rumjungle 3950 S. Las Vegas Blvd. Las Vegas, NV 89119 702- 492-3960 www.mandalaybay.com/dining/rumjungle
House of Blues Las Vegas
The House of Blues Las Vegas inside the Mandalay Bay Hotel offers Cajun, Creole and Southern dining "with zest," according to the Soul of America travel web site. The club has a capacity of 1,900, a live music stage and an open-air balcony. The venue holds 300 pieces of original folk art and 50,000 bottle caps in the mural that decorates the entrance way. A chandelier from the ballroom of the old MGM hangs above the crowd during all shows. In the House of Blues tradition, the Vegas site displays the "Crazy Quilt" (see Reference 3) and keeps a metal box of mud from the Mississippi Delta underneath its stage. Their Sunday Gospel Brunch features live music performances.
House of Blues Las Vegas 3950 Las Vegas Blvd. Las Vegas, NV 89119 702- 632–7600 www.hob.com/venues/clubvenues/lasvegas