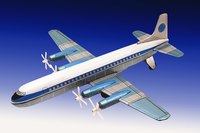 In 1978, President Jimmy Carter signed the Deregulation Act of 1978, which, in fact, radically changed the airline industry. According to the U.S. Centennial of Flight Commission website, this removed the authority of the Civil Aeronautics Board from the industry. The Board had been responsible for controlling the routes, fares and schedules by which American airlines operated. Although the ones who supported deregulation saw improvements as a result, history has shown otherwise.
Increased Vulnerability to Recession
Although, according to the Centennial website, deregulation led to a boom in the short term with 317 million passengers flying during 1979, the recession of 1979-82 brought changes to the industry. Over-expansion in the face of challenging economic times, coupled with the rising price of oil, caused several airlines to fail as early as 1982, Braniff being an early casualty. People stopped flying as times grew harder, and fewer people were working. As the Centennial website indicates, airlines nationwide suffered a $421 million net operating loss.
Decline in Experience
As Bier, Joosten, Glier, Welsh and Tracey point out, experience among the ground crew declined after deregulation. As the economy grew better and people began flying again, the need to hire pilots and other crew members increased. Airlines didn't necessarily have the money to hire well-trained, well-experienced crew, so companies started hiring pilots from less experienced employee ranks. Wages plummeted, and quality did as well. Bier et al. report that during the 1980s, ground crew errors spiked by 50 percent.
Bankruptcies of Major Airlines
According to the U.S. Centennial of Flight Commission website, three major carriers died during the 1980s and early 1990s. Poor relations with unions, combined with mismanagement, sunk Continental and Eastern, which were bankrupt by 1989. A major international airline, Pan American, closed its doors in 1991 due to the lack of the regulation, which about 15 years earlier would have afforded it protection.
Support Services: Decrease in Availability
According to Bier et al., deregulation has had a deleterious effect on support services. Because of lack of available funds, airlines are eliminating their engineering departments, weather departments and getting rid of management expertise. Also, support systems for workers struggling with alcohol addiction have been either reduced or entirely eliminated since deregulation took effect.