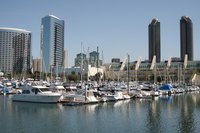 San Diego, California has almost everything a tourist could be interested in, but with hotel's averaging $127 a night, it may not be financially feasible for everyone. However, accommodations can be found in San Diego for less than $50 a night. The hotels aren't luxurious, but they are near many of San Diego's highlights like SeaWorld and the San Diego Zoo.
Friendship Hotel
This is one of the cheapest hotels in San Diego with rates starting at $29 a night, as of 2010. Rooms can be rented by the night or the week. Rooms are fully furnished and include cable TV. The Friendship Hotel is just off of Washington Street. It is close to Scripps Mercy Hospital and 24-Hour Fitness. There are many affordable dining experiences near the hotel, including Jack in the Box and several Japanese restaurants. A deli and Trader Joe's are also within walking distance.
Friendship Hotel 3942 8th Ave. San Diego, CA 92103 619-298-9898 friendshiphotel.net
La Petite Rouge Motel
As of 2010, the starting rate at La Petite Rouge Motel is $50 a night. The rooms at La Petite Rouge have king-sized beds, cable TV and refrigerators. It is only a few miles from Balboa Park, the Gaslamp District and SeaWorld. A Starbucks, sushi restaurant and Pizza Hut are all within walking distance of the motel.
La Petite Rouge Motel 6840 El Cajon Blvd. San Diego, CA 92115 619-463-6903
Golden West
Golden West is a 50-room hotel in a building with a history dating back to 1913. It doesn't have many amenities--just a telephone in the bedroom--but rates start at $30 a night, as of 2010. The hotel is in the Gaslamp Quarter which is a noted entertainment district in San Diego. Balboa Theater and Hard Rock Cafe are about a block away. Plenty of dining opportunities and a deli are just outside the building.
Golden West 720 Fourth Ave. San Diego, CA 92101 619-233-7594