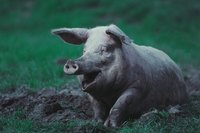 Coughing in a pig usually points to a respiratory ailment. While not entirely avoidable, good husbandry practices such as maintaining a consistent temperature in your pig housing structures, providing good ventilation, avoiding overcrowding, reducing humidity levels and keeping a clean environment all contribute to disease prevention. If you suspect your pig has become ill, contact your veterinarian for an accurate diagnosis and treatment options.
Mycoplasmal Pneumonia in Pigs
Caused by an organism that is impossible to eliminate completely, mycoplasmal pneumonia can affect the majority of a herd. Normally marked by a dry, nonproductive cough, the disease is rarely serious unless secondary infections occur. Additional symptoms include reduced feed intake and poor growth. In many cases, Pasteurella multocida accompanies the mycoplasmal pneumonia infection. The combination of infections, referred to as enzootic pneumonia, includes symptoms such as a cough that produces phlegm, fever, difficulty breathing, weight loss and shallow, rapid breathing, also called thumping. In most cases, the illness resolves on its own in six to eight weeks. In addition to good animal husbandry measures, you can have your veterinarian vaccinate your pigs against the mycoplasma infection.
Swine Influenza Infections
The hallmark symptom of swine influenza is a dry, hacking cough that worsens with activity. Some describe the cough as sounding similar to a goose honk. Swine influenza occurs suddenly, with symptoms including eye and nose discharge, labored or open-mouth breathing, weight loss and fever. Normally affecting the majority of a herd, many times the feverish, chilled pigs will pile on top of each other. The illness normally resolves within five to seven days. Your veterinarian can provide a vaccine to administer for prevention, or antibiotics for affected pigs to prevent secondary infections.
Porcine Reproductive and Respiratory Syndrome
Porcine reproductive and respiratory syndrome alone does not cause coughing in pigs. Secondary infections, which commonly accompany porcine reproductive and respiratory syndrome, create clinical signs such as variable forms of respiratory illness, including coughing. Fever, weakness and loss of appetite also occur. Your veterinarian can administer vaccinations to prevent porcine reproductive and respiratory syndrome and secondary infections normally respond well to antibiotics.
Parasitic Infections
Like many other animals, pigs can become infested with parasites. Those parasites can migrate from the intestinal tract to vital organs such as the lungs and liver, causing coughing and other symptoms. Coccidiosis most commonly occurs in pigs, causing diarrhea in young piglets. Prolific in warm, moist environments, there is no prevention for coccidiosis, so prevention through good animal husbandry is your best measure to control this parasite. Whipworms often cause mucus or blood in the stool, with symptoms becoming severe between one and six weeks after exposure. Roundworms can migrate rapidly to the organs before becoming detectable in the feces. Your veterinarian can recommend a good parasite control program to prevent whipworm and roundworm infestations.