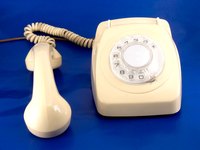 Most businesses use copying machines, so selling one would seem simple. After all, you don't have to convince anyone why he needs the product; it's something he already depends on every day. The challenge lies in differentiating your copier from the hundreds of other models on the market, and on persuading the prospect that your product will serve the company better than whatever it's currently using.
Find Out How the Company Chooses Vendors
The most finely crafted pitch won't work if you're not doing it according to company protocol. Before you pitch your product, ask how the company chooses a supplier. If you're selling to a local or regional office, does it make the decision, or does it use whatever supplier the corporate office decides on? Will it consider a new product anytime, or only at certain times? Asking how the prospect chooses a new vendor also shows that you respect and are concerned with its needs, and not just with selling your product. Once you've established this, the prospect will be more receptive to listening to your pitch.
Ask What the Company Needs from Its Copiers
Find out if the company uses a single copier for the entire office, if there's one in each department, or if there are copiers at multiple branches. Also, ask how much use the copier typically gets, whether it's just a few sheets here and there, or if the company frequently uses its copier to put together booklets or other handouts, such as for staff meetings. By finding out how the company normally uses its copying machines, you'll know which model will be the best match, and can stress how it can help meet the company's day-to-day needs.
Ask if the Company is Satisfied with its Current Product
Before you tell the prospect about your product's attractive features, ask her about the copier the company currently uses. Find out how satisfied the company is with the copier's performance and price and with the manufacturer's customer service. Maybe it's a reliable machine, but just too expensive to purchase one for every department, for example. Or maybe it's affordable but not reliable, requires frequent repairs or doesn't have enough features. By determining what the company does and doesn't like about its copiers, you can tailor your pitch to emphasize how your product can help, and emphasize the ways in which your machine outperforms competitors.
Suggest a Next Step
Instead of just pitching your product and leaving it up to the prospect, suggest some possible next steps, including setting up an in-person meeting or sending a contract. This action will motivate the prospect to consider your product more seriously, and encourage him to make a decision more quickly. In the "Inc." magazine article "Cold-Calling 101," CEO and author Brian Carroll says even requesting to e-mail additional information can increase chances of obtaining the sale, because the prospect will usually say yes, and this gives you an opportunity to stay in touch, in case the prospect needs more time for a decision.