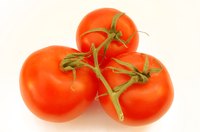 Antioxidants are celebrated by those who believe they have the ability to supercharge the immune system and prevent disease. The tiny substances are found in foods rich in vitamins A, C and E as well as minerals like selenium and zinc, and in some plant life. They defend the body against free radicals - potentially harmful compounds that can stop cells from functioning normally when they are produced in excess. Free radicals can cause cell damage, impair the immune system and lead to disease like cancer.
Vitamin C
Vitamin C helps protect against the cellular damage that free radicals can cause. According to HealthCheck Systems, vitamin C is a particularly powerful antioxidant against the free radicals created by pollution and cigarette smoke. The body cannot produce vitamin C on its own, so it must be taken through supplements and food. Blueberries, tomatoes, broccoli, bell peppers and citrus fruits are excellent sources of vitamin C.
Vitamin E
The National Institutes of Health Office of Dietary Supplements reports that vitamin E stops the production of free radicals that are produced when fat is broken down by the body. A powerful antioxidant, vitamin E helps protect the immune system and repair damaged tissue. It can be found in foods such as wheat germ, nuts and spinach.
Beta Carotene
Beta carotene is a type of red, yellow or orange pigment found in plants. The body needs beta carotene to produce vitamin A. According to the Mayo Clinic, vitamin A is essential for maintaining healthy eyes, bones and reproductive systems. Good sources of beta carotene include carrots, sweet potatoes, kale and spinach.
Lycopene
Lycopene is a pigment that gives plant-based foods like tomatoes and watermelon their red color. As an antioxidant, lycopene has been linked with decreasing the risk of prostate cancer and cardiovascular disease. In addition to tomatoes and watermelon, lycopene can be found in grapefruit, red cabbage and papaya.