Many different insect bites result in rashes, including bites from bed bugs, chiggers and mosquitoes. Oatmeal baths and calamine lotion soothe these insect bites; meticulous vacuuming prevents infestations. Other insect bites that can cause rashes include those from fleas and ticks. Bites can also trigger allergic reactions. Check bed sheets regularly and wear protective clothing to keep such bugs at bay.
Bed Bugs
Bed bugs make their nests between sheets and pillows, as well as mattress crevices. They feed on human flesh during the night causing itchy patches on the skin. Bed bugs inject a chemical into the skin that stops the blood from clotting. Those who are allergic to bed bugs will react to this chemical and break out in patches with severe itching. These patches turn into large red welts when scratched and can scab over if the skin is scratched too much. Calamine lotion and raw apple cider vinegar are two treatments for the bites. Continuous vacuuming and throwing away infested bedding are two ways of getting rid of bed bugs; applying black pepper around the bed is also known to repels most bugs.
Mosquitoes
Mosquitoes are partial to damp areas and standing water and enjoy biting the more fleshy areas of the skin, such as legs and upper arms. They can sometimes carry serious diseases, like West Nile virus, malaria and dengue fever. Mosquitoes feed on human blood. When feeding, a mosquito bite causes the skin to react to the mosquito's saliva and produces large red welts that itch. The rash can look similar to blisters and bruises. Bites generally occur at dawn or dusk when mosquitoes are most active. Oatmeal baths are common, inexpensive remedies for mosquito bites and help lessen itching and redness. Wetting a bar of soap, rubbing it over a bite and allowing it to dry also provides relief.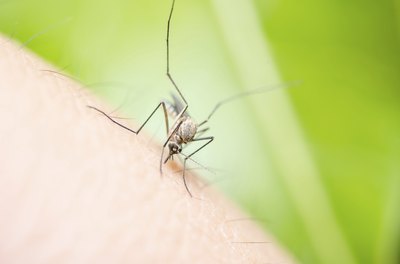 Chiggers
Chiggers are common in wooded areas, grassy fields, gardens parks and moist areas like near lakes and rivers. They are mites that attack the ankles, waist and warm folds of skin and live close to the ground, as they require a high humidity level to survive. Chiggers are red in color and, at less than 1/150th of an inch in length, they are nearly invisible to the naked eye. Small red lesions often occur several hours after a bite. Rashes are common after exposure to sunlight and can cause severe itching. Nail polish and alcohol are sometimes used on areas of the skin affected by chiggers, to smother them. Baths and calamine lotion soothe chigger bites.