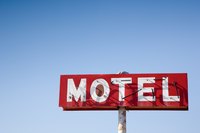 Whether on business or on vacation, travelers seeking motel accommodations in Orange County, California, have a number of extended lodging options to choose from. Ranging in price from moderate to opulent, these extended-stay properties provide a host of amenities and features to make the time away from home a little more comfortable.
Huntington Suites
According to its website, Huntington Suites provides "studios and suites at a sweet price." The hotel is about 25 minutes from Disneyland and Knott's Berry Farm, and about 20 minutes from the Orange County airport. Each room at Huntington Suites includes a full kitchen, complimentary Wi-Fi and satellite television. As of August 2010, rates at Huntington Suites ranged from $88 to $138 a night, and guests staying for an extended period receive a discount.
Huntington Suites 727 Yorktown Ave. Huntington Beach, CA 92648 714-969-0450 thehuntingtonsuites.com
Hotel Pepper Tree
Stay for a night, a week or a month at Hotel Pepper Tree, which features studios, executive rooms and apartments. The hotel, located in central Anaheim, is completely smoke-free and features a business center with printing, fax and copy service as well as Internet access. As of August 2010, Hotel Pepper Tree's rates ranged between $69 and $2,290, depending on the length of your stay.
Hotel Pepper Tree 2375 W. Lincoln Ave. Anaheim, CA 92801 877-888-5656 hotel-peppertree.com
The Tides Laguna Beach
The Tides is a pet-friendly extended-stay hotel that prohibits smoking in each of its 21 rooms. Amenities at The Tides include wireless Internet, complimentary HBO and local calls, as well as a saltwater pool, gas grill and outdoor fireplace. Some rooms at The Tides are also furnished with kitchenettes. As of August 2010, rates at The Tides ranged from $99 to $285 a night, depending on the time of year; there is no minimum stay requirement at the hotel.
The Tides Laguna Beach 460 N. Coast Highway Laguna Beach, CA 92651 949-494-2494 tideslaguna.com
Lemon Tree Hotel
Offering daily, weekly and monthly rates, the Lemon Tree Hotel caters to business travelers as well as families. Among the amenities the hotel provides are free Wi-Fi, a communal barbecue, a gym and full kitchens in its apartments. As of August 2010, monthly rates at the Lemon Tree Hotel ranged from $1,690 to $2,990.
Lemon Tree Hotel 1600 E. Lincoln Ave. Anaheim, CA 92805 714-772-0200 lemon-tree-hotel.com