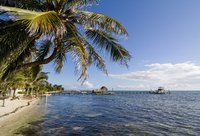 Cruise ships visiting Belize City actually dock offshore. The passengers are tendered to the dock at Tourism Village, the town's cruise-ship terminal. Belize City has only one public beach, but there are a few others on nearby islands that can be easily reached by ferry boat.
Cucumber Beach in Old Belize
Cucumber Beach, a man-made strip of sand in Old Belize, is the only beach near the city. It was once a small shipping port for vegetables, including cucumbers, grown by a transplanted Floridian farmer. Today this family-friendly area is home to the strips of sand fronting a semi-enclosed swimming area with a water slide and a 600-foot zip-line. A marina, restaurants and the Museum of Belize, which was the city jail from 1857 to 1993, are nearby. Cruise ship passengers can join a tour group to the beach and museum area or take a taxi. It's only about 2 miles west of downtown.
Caye Caulker
Caye Caulker, a 45-minute ferry ride from the Marine Terminal, is only a mile wide and 5 miles long, but it has the best beaches in the area. Cars aren't allowed, so guests get around on bicycles or in golf carts. Part of the Belize Barrier Reef, this island is known for its snorkeling and diving, available just a mile offshore. Cruise ship passengers can easily make the trip in one day.
Ambergris Caye
Another island -- only a 75-minute boat ride away -- is Ambergris Caye. The main town of San Pedro is on the southern end of this 25-mile-long, 5-mile-wide island. Development is increasing, with resorts and condos starting to dot the shoreline. The beaches have been built up, and public access is available. Most people come here to visit touristy San Pedro or to snorkel or dive in the nearby barrier reef.
About Tourism Village
Tourism Village is located on North Front Street. In addition to the tender docks, the Village is attached to the Fort Street Plaza shopping mall. You'll find a restaurant and bar, along with the shops. Outside the village, vendors sell everything from hair braiding to souvenirs. It can be rather like an almost-rowdy street party, with musicians, buskers and hustlers doing their best to out-entertain the other. It's an experience, but if you're looking for items to take back home, the prices are usually lower downtown.