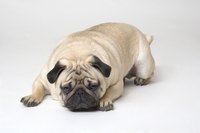 Frontline Plus is a convenient topical parasite preventive for dogs with few serious side effects unless your dog ingests it or has an allergic reaction to its ingredients. Veterinarians prescribe Frontline Plus for dogs to break the life cycle of fleas and ticks, and to aid in controlling sarcoptic mange and chewing lice.
Active Ingredients
Frontline Plus includes two active ingredients. Fipronil is 9.8 percent of the formula and is an antiparasitic that kills adult fleas and ticks. The second ingredient, (S)-methoprene, 8.8 percent of the Frontline Plus formula, is an growth regulator that kills larvae and eggs. These two products kill the parasites by interfering with their central nervous systems.
Frontline Plus Contraindications
Frontline Plus is not recommended until a puppy reaches 8 weeks of age. Geriatric pets or debilitated dogs should not use Frontline Plus. This topical antiparasitic is safe for use on female dogs while breeding, pregnant or nursing.
Mild Side Effects
Some dogs may be allergic to Frontline Plus. The application site on the skin may become irritated and red. If the condition persists a few days after application or the itchiness and redness becomes worse, take your pooch to the veterinarian for treatment.
Severe Side Effects
Frontline Plus is applied between the shoulder blades in one spot. If you apply down your dog's back, he could lick it and become ill. If your dog ingests this product, call your veterinarian immediately. Ingestion or severe allergic reaction can cause gastrointestinal distress with vomiting or diarrhea, respiratory issues, trouble breathing, and neurological problems signified by unusual coordination. Report any change in your dog's behavior or condition immediately to your veterinarian.